Cranberry Pesto Shrimp over Curried Israeli Couscous with Mango and Cranberries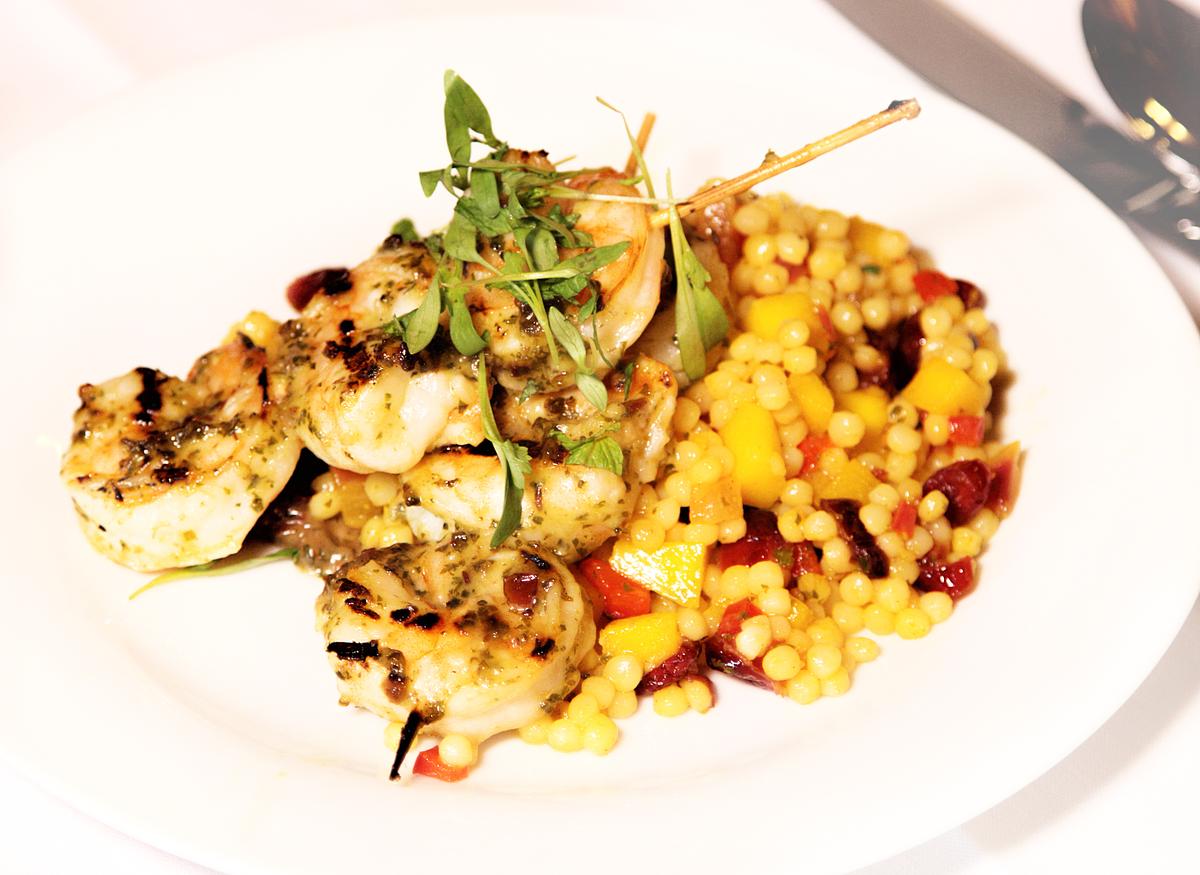 Ingredients
Cranberry Pesto Shrimp:

1 cup dried cranberries

1 1/2 cup basil leaves, fresh

1 1/2 cup mint leaves, fresh

1/2 cup parsley, fresh

5 large cloves garlic

1/2 tsp crushed red pepper flakes

3 Tbsp cranberry juice cocktail

1 large lemon, juiced

2 tsp salt

1/2 tsp. black pepper

1/2 cup olive oil

16 shrimp, 16/20 count, peeled and deveined

4 12-inch skewers, soaked in water

Curried Israeli Couscous:

2 cups Israeli couscous

6 Tbsp olive oil, divided

1/2 tsp mustard seeds

3 tsp curry powder, yellow

1/2 cup red onion, small dice

2 1/2 cups of vegetable stock

1/2 cup red bell pepper, small dice

1/4 cup cilantro, fresh, chopped

1/4 cup mint, fresh, chopped

3 Tbsp local honey

1 large mango, chopped

2 limes, juiced

1/2 cup dried cranberries

Salt and pepper to taste
Instructions
Cranberry Pesto Shrimp- Soak dried cranberries in hot water for 10 minutes to rehydrate; drain and discard water.

To make pesto sauce, place the first ten ingredients into a food processor and turn on. Slowly add the olive oil until well processed. Add more oil if needed and adjust salt and pepper to taste.

Place shrimp in a bowl and top with the pesto sauce and mix well. Refrigerate for at least 30 minutes (longer if possible), up to 3 hours.

Place four shrimp on each skewer and keep refrigerated until ready to use.

Cook the shrimp on a preheated, prepared gas or charcoal grill, 2-3 minutes per side depending on the temperature of the grill.

Israeli Couscous- In a 4-quart sauce pan, add half the olive oil and gently heat over medium heat, Add half the red onion and saute until translucent, about 1 minute. Add mustard seeds and curry powder and saute for another 30 seconds. Note: DO NOT place nose over pot. The mustard seeds produce mustard gas that can be very unpleasant to inhale.

Add vegetable stock to pan and bring to a boil.

Add couscous to boiling broth and cook for 1 minute. Cover pan and remove from heat; leave covered for 10 minutes.

After 10 minutes, fluff with fork, transfer to large mixing bowl, cover and refrigerate for 2 hours.

When couscous has cooled, add remaining ingredients (remaining onion, peppers, cilantro, mint, mango, honey, lime juice, cranberries, and remaining olive oil, if necessary), mix well and adjust seasoning, to taste.

After the curried Israeli couscous has been made and refrigerated, cook the shrimp according to recipe directions.

Place a 4 oz. spoonful of curried Israeli couscous on a plate and top with four shrimp.

* Works very well with grilled chicken as well!