Cranberry Pineapple Torte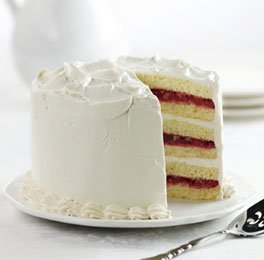 Ingredients
2 cups all-purpose flour

1 tablespoon baking powder

1/2 teaspoon Salt

1 1/2 cups sugar

1/2 cup tap water

7 eggs, separated, room temperature

1/2 teaspoon cream of tartar

1/2 cup canola oil

1 20-oz. can crushed pineapple in syrup

3 cups fresh or frozen, thawed cranberries

1 cup sugar

1 cup chopped walnuts

1/2 cup butter, softened

1/2 cup vegetable shortening

1 cup superfine sugar

1/4 cup flour

1 cup whole milk

1 teaspoon real vanilla extract
Instructions
Preheat oven to 350 degrees.

Butter six 8-inch round cake pans. (NOTE: If you don't have this many pans, you can bake the cakes in two or three batches.) Line bottoms with wax or parchment paper. Butter the paper, too.

Sift 2 cups flour, baking powder, salt and 1 1/2 cups sugar into a large bowl.

Add canola oil, water, and egg yolks. Beat until well combined.

In another large bowl, beat egg whites and cream of tartar until stiff but not dry. Fold small amount of egg whites into batter, then add batter to egg whites, fold until combined.

Spoon about one cup of batter into each prepared cake pan.

Bake for 15-20 minutes or until a toothpick inserted in the center comes out clean. Invert cakes onto wire racks. Remove paper. Cool.

Prepare the Filling -Combine pineapple, cranberries, 1 cup sugar and walnuts in saucepan and cook over medium heat until berries pop and mixture starts to thicken. Remove from heat and allow to cool completely before assembling torte.

Prepare the Frosting - In a medium mixing bowl beat butter and shortening until fluffy. Gradually add sugar, beating about 5 minutes.

In medium saucepan combine milk and 1/4 cup flour. Cook, whisking constantly until thickened. Remove from heat. Cool to room temperature.

When cool gradually add milk mixture to frosting mixture beating until light and fluffy and no granules remain. Beat in vanilla.

Assemble the Torte - Place one cake layer on a large plate. Spread with 1/3 of the cranberry-pineapple filling. Add second layer and frost with a1/2-inch layer of frosting. Repeat this process until all six cakes have been used, then frost top and side of cake. Decorate as desired. Chopped dried cranberries and chopped nuts as a nice finishing touch for the torte.