Cranberry Pistachio Biscotti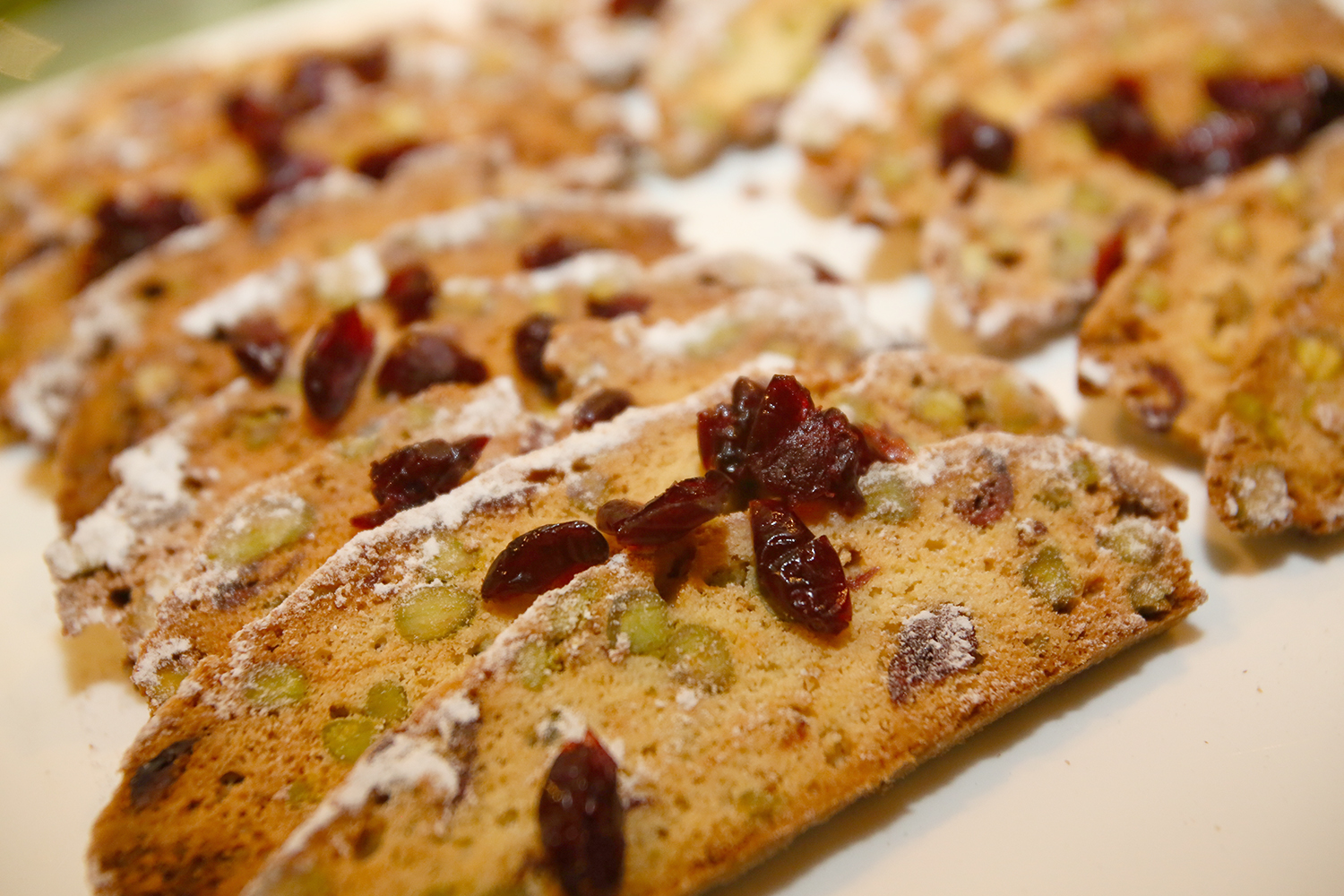 Ingredients
2 cups all-purpose flour

1 teaspoon baking powder

1/4 teaspoon cardamom

3/4 cup light brown sugar

1/4 cup butter, softened

2 eggs

1 teaspoon lemon zest (finely grated peel)

1 cup sweetened, dried cranberries

1 cup pistachios, shelled and roughly chopped

6 ounces white chocolate
Instructions
Preheat oven to 325 degrees F. Cover a cookie sheet with parchment paper and set aside.

In a medium bowl combine flour, baking powder, and cardamom. Set aside.

In another medium bowl beat sugar and butter with a hand mixer until light and fluffy. Add eggs and lemon zest and beat until well blended. Add flour mixture, cranberries, and pistachios, and use a wooden spoon to stir until dough forms.

Place dough on the buttered cookie sheet and with floured hands form dough into a 12 x 2 log.

Bake the log at 325°F for 40-45 minutes until golden and slightly cracked on top. Allow to cool on baking sheet for 10 minutes. Remove from baking sheet and, using a serrated bread knife, slice width-wise into 1/2 inch slices. Add a new sheet of parchment paper to the cookie sheet.

Place slices, cut side down, on cookie sheet and bake for 10 minutes. Place biscotti on wire cooling racks.

When the biscotti are all baked and cooled, microwave the chocolate on high in a small glass bowl for 2 minutes, stirring every 30 seconds, until just melted. Dip biscotti base in chocolate and place on parchment paper to set.