Cranberry Pumpkin Risotto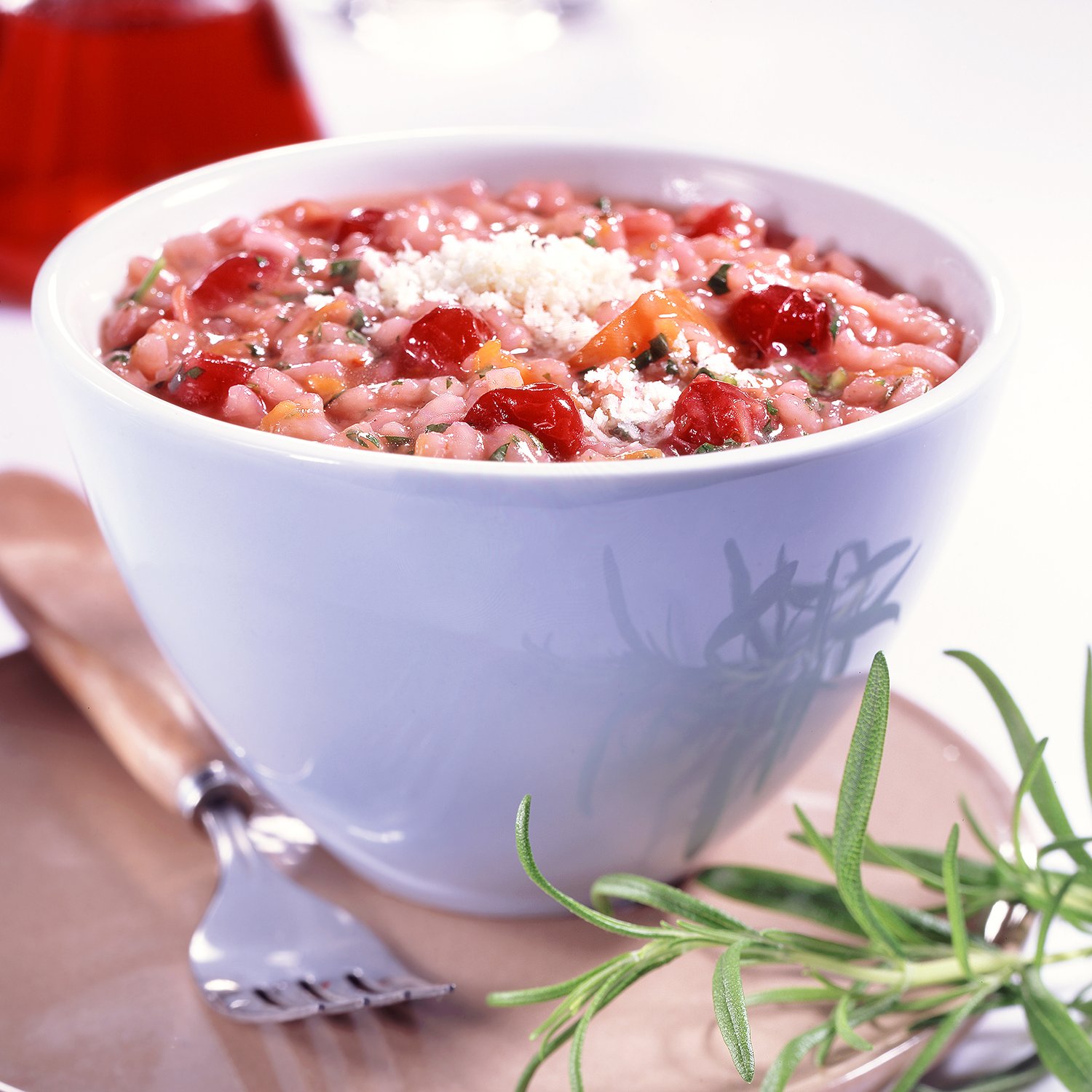 Ingredients
1/4 cup dried cranberries

2 1/2 cup cranberry nectar

1 3/4 cup pumpkin (ex: Nutmeg or pumpkin Hokkaido)

2 shallots or 1 small onion

2-3 cloves of garlic

1 sprig rosemary

2 cup vegetable stock

2-3 Tbsp olive oil

1 cup risotto rice (arborio or vialone)

4 Tbsp chopped parsley

4 Tbsp freshly grated Parmesan cheese

3 Tbsp butter

Salt and pepper
Instructions
Add dried cranberries and some juice to a pot and bring to a boil over low heat. Simmer for 20 minutes. Drain berries in a colander and collect the juice. Peel pumpkin, remove seeds, and cut into cubes or coarsley grate it. Peel shallots and garlic, and finely dice it. Wash rosemary, shake dry, remove needles from twigs, and chop it up.

Pour cranberry juice and vegetable stock in a pot and bring it to a boil. Afterwards, switch it down to lowest heat. Heat olive oil in a second large saucepan. Add all prepared ingredients with cranberries and saute for 1 minute. Season with salt and pepper. Sprinkle in the rice, frequently checking on it. Pour a third of the juice-stock mixture into the pot. Cook the risotto at medium heat, stir occasionally, and simmer for 20 minutes. Pour in the remaining stock little by little until risotto is nice and creamy. Stir in parsley, parmesan and butter into the risotto and season to taste. Serve immediately.

Tip: For a main dish, you should serve the risotto with pan-fried chicken breast. Therefore, season two chicken breast fillets and fry them with some oil and a rosemary twig at low heat on the skin side for 8-10 minutes. Turn it over and fry it for 2-3 more minutes. Take the fillets out of the pan, chop it into thin slices and place them on top of the risotto.