Cranberry Quark Strudel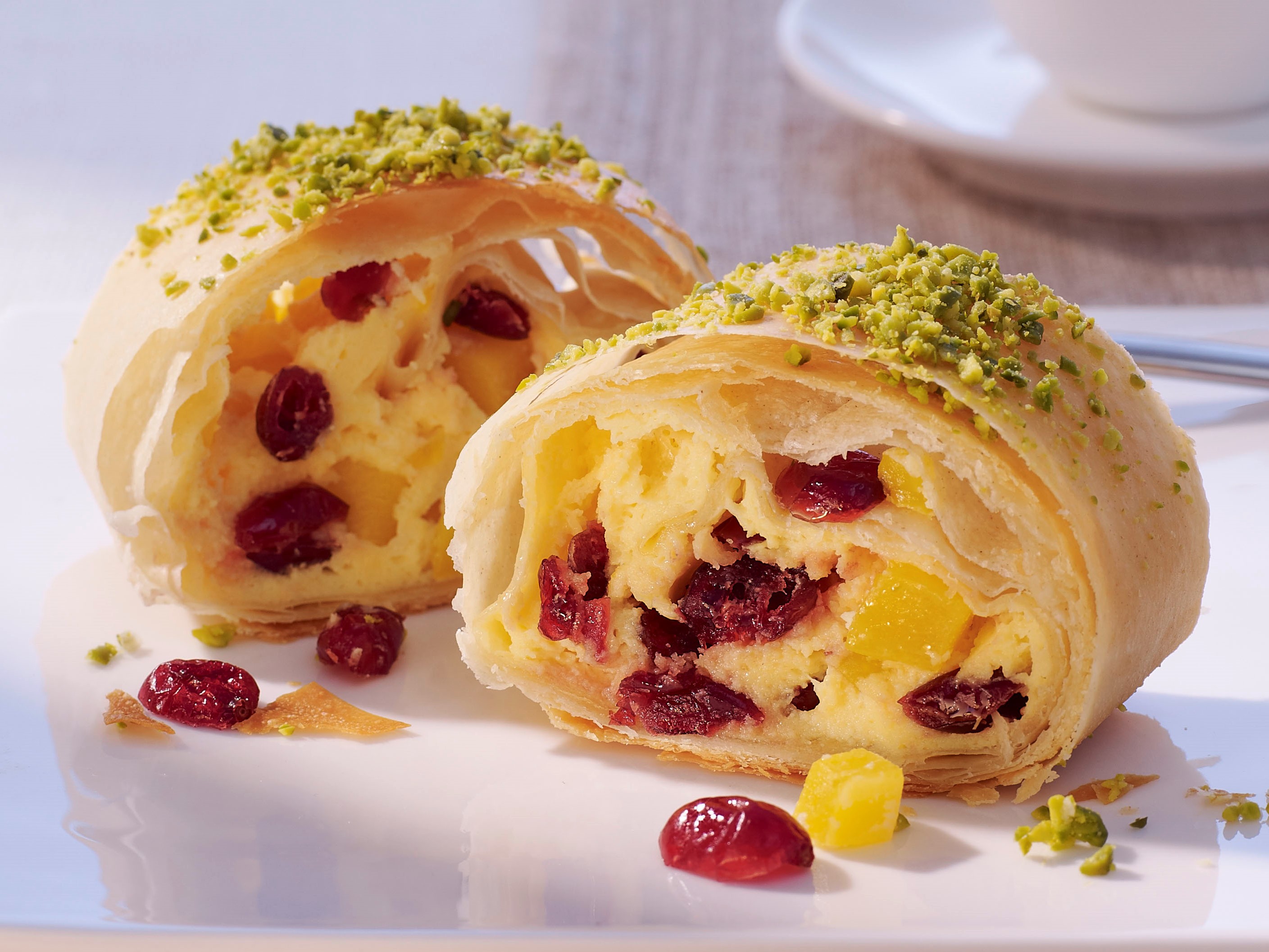 Ingredients
- 1/2 mango (130 g fruit flesh)

- 100 g butter

- 400 g low-fat quark (Mascarpone cheese as

substitute)

- 4 egg yolks (medium)

- 80 g sugar

- 4 teaspoons cornstarch

- 1 pinch of salt

- 80 g dried cranberries

- 2 tablespoons brown sugar

- 8 sheets of strudel pastry (from the refrigerator)

- 25 g chopped pistachios
Instructions
Directions
Peel the mango, cut off the fruit flesh from the core and chop it into 1 cm large cubes. Melt the butter.

Strongly squeeze the quark in a clean dish towel. Beat the egg yolks and sugar with the whisk of the hand mixer until creamy and foamy. Stir in the quark, cornstarch and salt. Mix in the cranberries and mango.

Place 1 sheet of strudel pastry on a clean dish towel and brush it with melted butter. Cover it with a 2nd sheet of strudel pastry, and also brush this with butter and sprinkle 1/2 tablespoon brown sugar. Place a 3rd sheet of strudel pastry on top of this, brush again with butter, and sprinkle this with another 1/2 tablespoon of brown sugar and cover with a 4th sheet of strudel pastry. Pour half of the quark mixture in the lower third onto the pastry. In doing so, leave a 3 cm wide pastry strip uncovered. Use the dish cloth to roll the pastry around the quark filling and place the roll on a baking tray lined with baking paper. Process the 4 other sheets of strudel pastry in the same way, and place them on the baking tray. Brush the strudel with the remaining butter.

Bake the strudel in a preheated oven at 200 degrees (convection heat 180 degrees) on the middle rack for 30 minutes. Roughly grind the pistachios in the food chopper. Let the strudel cool down a little, brush it with a little melted butte and serve sprinkled with pistachios.