Cranberry Rice Shaker Salad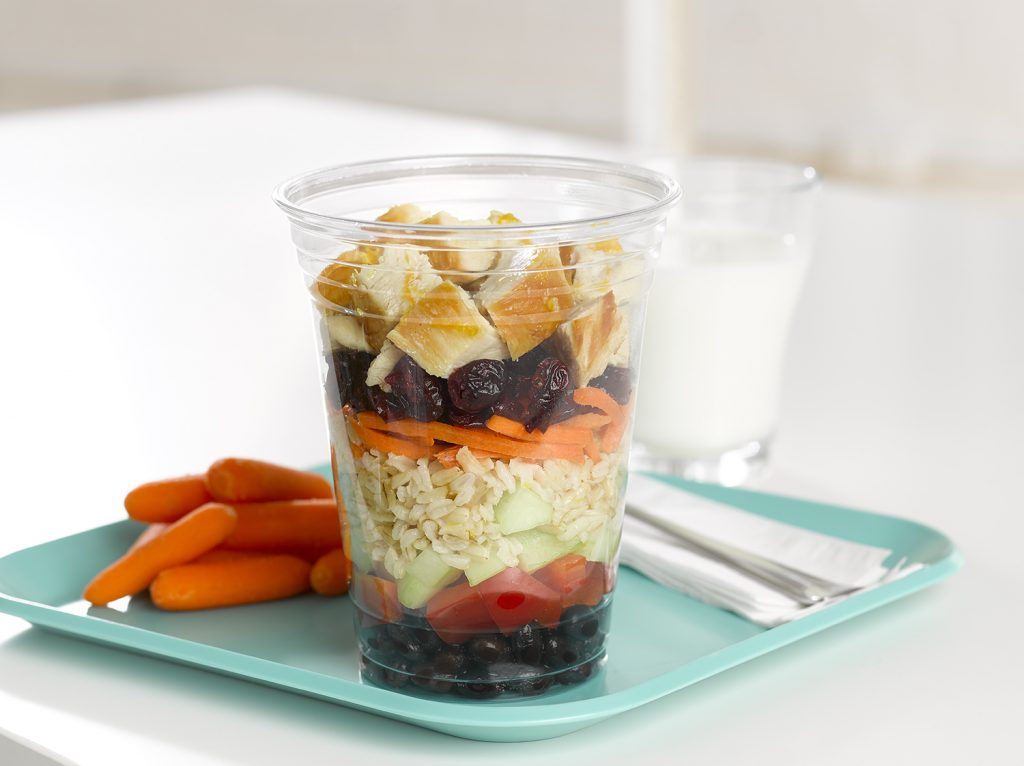 Ingredients
2 lb. 12 oz.

Rice, brown, long, parboiled, dry

1

gal.

Water, hot, nearly boiling

[br/]Orange Dressing:

4.5

cups

Orange Juice

1.5

cups

Vinegar, white

2

tsp.

Orange zest

(or to taste)

3/8

cup

Sugar

1

cup

Oil, vegetable, canola or olive |M| 1 cup|Mend|

[br/]

1.5

qt.

Black beans, drained and rinsed

1.5

qt.

Red pepper, diced (1/2-inch dice)

1.5

qt.

Cucumbers, pared, diced (1/2-inch dice)

1.5

qt.

Carrot, shredded, RTE

3

qt.

Cranberries, dried

3 lb. 8 oz.

[br/]

6

lb.

Chicken, boneless, fully cooked, diced, chilled
Instructions
Directions
Combine rice and hot water in a 4-inch deep full-size pan, taking care to avoid burns from hot water; cover and place in preheated 350°F oven. Cook for 45 minutes; stir and check doneness. If necessary, cook 5-10 minutes longer until rice is fully cooked.

While rice is cooking, prepare salad dressing by combining orange juice, vinegar, orange zest and sugar, then divide into two equal amounts. Critical Control Point (CCP): Cold hold at 41°F or below.

Combine cooked rice, half of dressing and oil. Mix thoroughly. If needed, transfer to pans with ½-inch to 1-inch rice mixture depth to speed chilling. Chill to 70°F within 2 hours and to 41°F within 4 hours. Critical Control Point (CCP): Cold hold at 41°F or below. Chef's Tip: Rice may be prepared the day before service. Follow food safety procedures and record CCPs and times.

While rice is chilling: Prepare vegetables for layers: rinse and drain black beans, dice cucumber and red peppers; and measure shredded carrots RTE or shred from whole carrots. CCP: Cold hold at 41°F or below.

To Serve: In an 18-fl. oz. clear cup, layer: • 1/8 cup each of black beans, red pepper, diced cucumber and shredded carrot (½ cup total vegetables) • ½ cup chilled rice and dressing • ¼ cup dried cranberries • 2 oz. eq. of diced chicken • 1 Tbsp. of Orange Dressing.

Cover with plastic wrap or lid.
Source
Recipe Concept by Debra Morris, director of nutrition of Jackson County Schools in Jefferson, GA for the 2017 Cranberry Marketing Committee / USA Rice Search for the Next Great Cranberry-Rice Recipe
Nutrients per serving
Calories 380 kcal, Saturated Fat 0.5 g, Carbohydrate 61 g, Protein 17 g, Calcium 34 mg, Vitamin A 2717 IU, Total Fat 8 g, Trans Fat 0 g, Sodium 115 mg, Dietary Fiber 6 g, Vitamin C 26 mg, Iron 3 mg
Cooling
CCP: Cool to 70˚F or lower within 2 hours and from 70˚F to 40˚F within 4 more hours. Place in shallow pans with a product depth of 2 inches or less and refrigerate or place shallow pans of product into ice bath, immerse pans into ice up to product level and stir frequently. Cover and label product.
Reheating
CCP: Reheat to 165˚F or higher for 15 seconds, within 2 hours.
Sanitation instructions
Wash hands and exposed parts of arms before handling food, after handling raw foods and after any interruption that may contaminate hands. Wash, rinse and sanitize all equipment and utensils before and after use. Return all ingredients to refrigerator if preparation is interrupted. Measure all internal product temperatures with a cleaned and sanitized thermocouple or thermometer every 2 hours. Thaw frozen product properly using an FDA recommended method.