Cranberry & Roasted Beet Hummus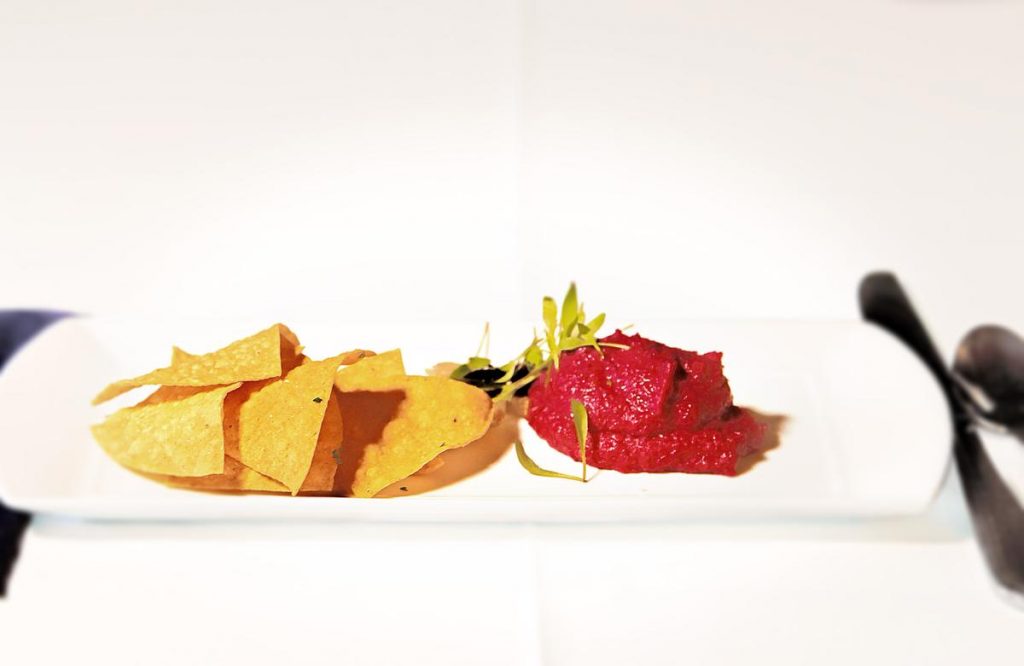 Ingredients
1 cup shallots; approximately 5-6 shallots

1 cup olive oil, divided

2 cups dried cranberries

1 orange, zested

12 fl oz. water

4 cups roasted beets, quartered

6 cups garbanzo beans, cooked

1 tbsp lemon juice

2 cups water, as needed

Salt and pepper to taste
Instructions
Preheat oven to 350 degrees Fahrenheit.

Cut shallots into quarters. In small roasting pan, combine with 1/2 cup oil and cover with aluminum foil and roast at 350 degrees Fahrenheit for approximately 45 minutes, or until soft. place shallots in a China cap strainer to separate the oil from shallots and reserve both.

Combine dried cranberries, orange zest and 12 fl. oz. water and simmer uncovered until water has almost completely evaporated and cranberries rehydrate.

Toss beets in 1/2 cup oil, add salt and pepper to taste and roast on a sheet pan at 350 degrees Fahrenheit until edges become brown.

Place cooked garbanzo beans, rehydrated cranberries, shallots, roasted beets, 1 cup water, lemon juice and shallot oil in blender. Puree until smooth, add remaining water to loosen, if necessary. Adjust seasoning with salt and pepper, to taste.

Serve with corn tortilla or pita chips.