Cranberry Salsa Chicken Salad Wrap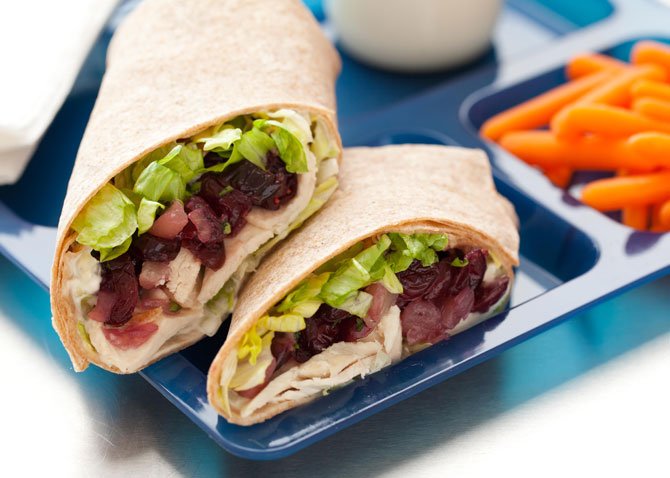 Ingredients
Cranberry Salsa* (makes ¾ cup)

1 T vegetable oil

½ cup minced sweet onions

⅓ cup dried sweetened cranberries

¼ cup canned pears in juice, drained and diced (juice reserved)

¼ cup reserved canned pear juice

1 T cider vinegar

Pinch ground red pepper

2 T minced fresh cilantro

Sandwich

6 whole-grain wraps, 8-inch

6 T low-fat mayonnaise

1 ½ cups shredded romaine lettuce

12 oz. sliced/shredded cooked chicken

¾ cup Cranberry Salsa*
Instructions
For Cranberry Salsa*: In a sauce pan, heat oil over medium-high heat; add onions and sauté for 2 minutes, making sure not to brown.

Stir in cranberries, pears, pear juice, vinegar and red pepper and bring to a boil; reduce heat and simmer 10 minutes or until glazed. Remove from the heat and stir in cilantro. Bring to room temperature. Cover and refrigerate until ready to serve.

For Each Sandwich: Lay out a wrap on a clean, flat, dry surface. Spread each wrap with 1 Tbsp. mayonnaise. Top with ¼ cup lettuce, 2 oz. chilled chicken and 2 Tbsp. Cranberry Salsa*.

Fold up and secure. Cut in half and keep chilled until ready to serve.