Cranberry Sour Cream Coffee Cake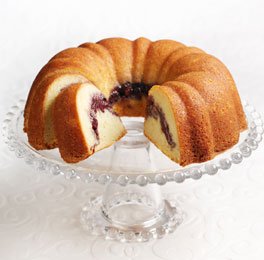 Ingredients
Ingredients for Cranberry Sour Cream Coffee Cake
1 cup butter, softened

2 eggs, lightly beaten

1 cup sour cream

1/2 teaspoon baking soda

1 teaspoon cinnamon

1 16-oz. can whole cranberry sauce

1 1/4 cup granulated sugar

1 teaspoon real vanilla extract

1 1/2 teaspoon baking powder

2 cups all-purpose flour

1 cup chopped walnuts
Instructions
Directions
1. Preheat oven to 350 degrees. Butter and flour a Bundt cake pan.

2. In a large bowl cream butter and sugar. Add eggs, vanilla, and sour cream. Mix well. In another mixing bowl combine flour, baking powder, and soda.

3. Add the dry ingredients to the wet ingredients and stir as little as possible to combine the ingredients.

4. Spoon half the batter into the Bundt pan. In a small bowl combine the cranberry sauce, cinnamon, and chopped nuts. Spoon on top of the batter in the pan. Spoon the remaining batter over the cake.

5. Bake for 55 minutes. Let cake cool thoroughly before removing from pan.