Cranberry-Spinach Dumplings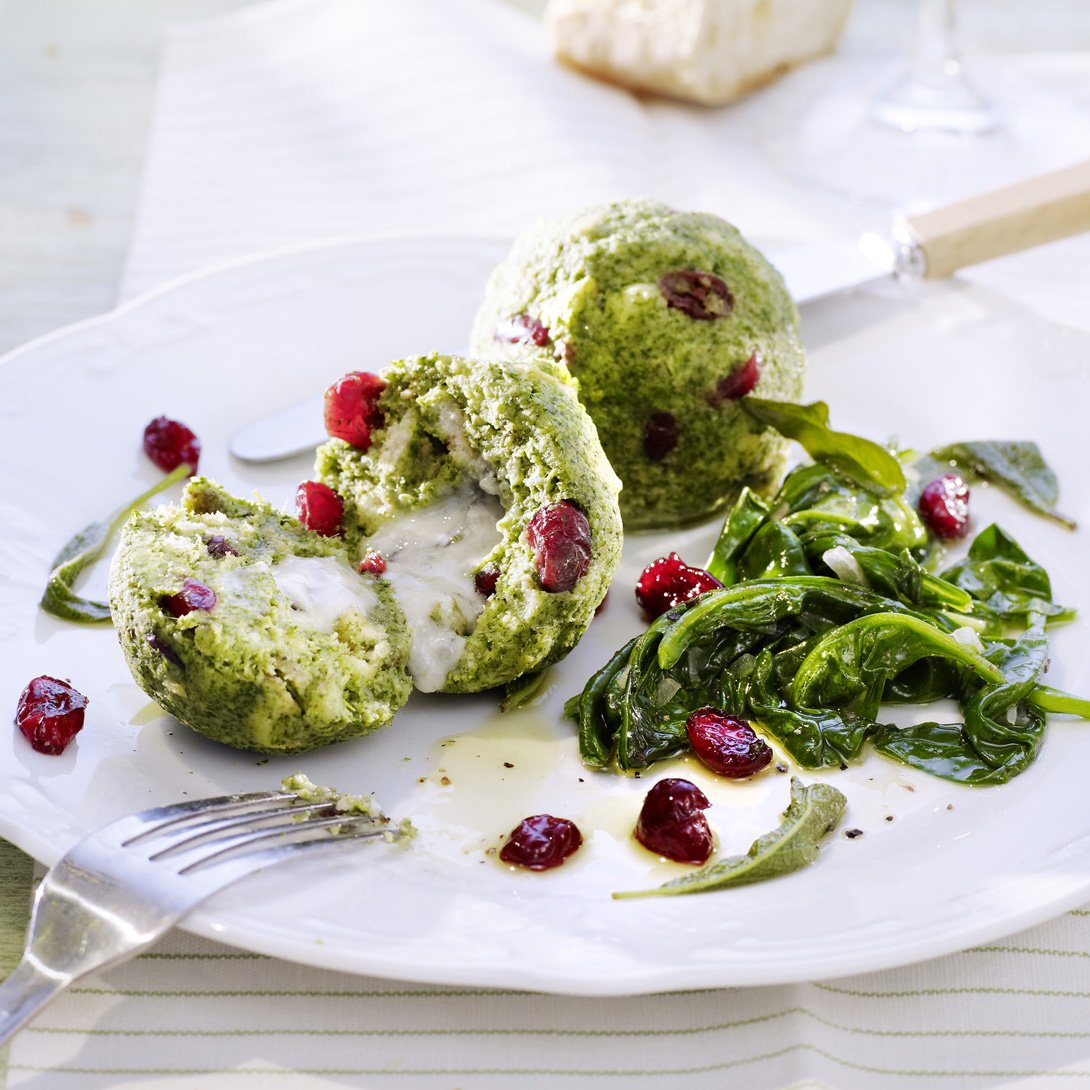 Ingredients
3 cups young leaf spinach

1/4 cup dried cranberries

1 1/4 cup old white bread

2 onions (approx. 1/2 cup)

4 Tbsp butter

2/3 cup milk

Freshly grated nutmeg

2 eggs (M)

1-2 Tbsp of breadcrumbs

1/2 cup gorgonzola

12 sage leaves

Salt and pepper
Instructions
Wash and clean spinach. Put 1 1/2 of spinach in boiling salt-water and bring to a boil. Rinse the remaining spinach in ice-cold water, drip dry, squeeze strongly and chop. Chop cranberries roughly. Cut bread into 1 cm large cubes. Finely dice the onions.

Melt 1 tablespoon of butter in a pot. Stew half the onions in this until they are glassy. Add the milk and warm it. Season with salt, pepper, and nutmeg. Finely puree the chopped spinach in the milk with cutting rod. Place the bread in a bowl and mix it with the spinach-milk puree, 2 1/2 tablespoons of cranberries, eggs and breadcrumbs. If necessary season it again. Leave the mixture covered with transparent kitchen foil for 30 minutes.

Boil salt-water in a large pot. Cut the gorgonzola into 8 equal sized pieces. Use your moist hands to shape the dumpling mixture into 8 dumplings. Press a recess in each of the dumplings, put 1 piece of cheese in this, seal the recess and shape the dumpling round again. Put the dumplings in the salt-water and cook them at a mild heat for 20 minutes with no lid on the pot.

Stew the rest of the onion in 1 tablespoon of melted butter until it is glassy. Add the rest of the spinach and cook at a medium heat with the lid on the pan until its just wilted. Season with salt, pepper and nutmeg. Melt 2 tablespoons of butter in another pot. Add the sage leaves and 1 1/3 cranberries and fry for 1 minute. Lift the spinach-cranberry dumplings out of the water with a skimmer and drip dry. Garnish it with steamed spinach and sage-cranberry butter and serve immediately.