Cranberry Spring Rolls with Chopped Meat Stuffing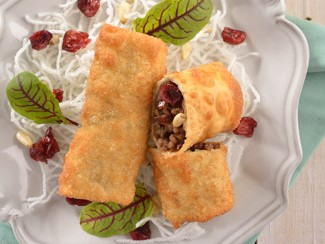 Ingredients
1/2 cup dried cranberries

1 lb Ground beef

8 Wonton sheets

1/4 cup pine nuts

1 Onion, finely chopped

1/2 tsp Ground black pepper

1 garlic clove, finely chopped

Pinch of salt to taste

For the sauce:

1/2 cup cranberry juice

1/2 tsp Grated ginger

2 Tbsp soy sauce

1 tsp Sesame oil

1/2 cup Jellied cranberry sauce
Instructions
For the sauce: Add all ingredients in a saucepan and simmer over low heat bringing it to a boil and remove from heat.

For the spring rolls:

In a large fry pan add some vegetable oil to create a thin coat to avoid sticking. Saute the onion until translucent. Add garlic. When mixture is cooked but not browned add the ground beef. Saute beef until it starts to brown. Add salt and pepper to taste and mix all ingredients together.

Heat vegetable oil over low heat in separate saucepan for frying.

Place wonton sheet in front of you making a diamond shape, and glaze edges of wonton sheet with egg whites leaving the center dry. Add the ground beef mixture to wonton from side to side straight across the center.

Fold in the two side points of wonton. Take the bottom point of wonton and wrap over the ground beef mixture. Once the mixture is covered by bottom point roll up until the top point is securely fastened and completely covered. Glaze spring roll with egg white and fry in saucepan with heated vegetable oil until golden brown.

Drizzle sauce over spring rolls and garnish with dried cranberries.