Cranberry Stuffed Pork Chops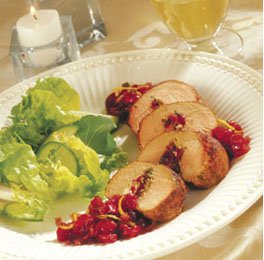 Ingredients
Ingredients for Cranberry Stuffed Pork Chops
1 6-oz. package stuffing mix

1 1/2 cups water

1/4 cup butter, melted

3/4 cup whole berry cranberry sauce

6 1-inch thick bone-in pork chops

Salt and pepper

1 T canola oil
Instructions
Directions
Preheat oven to 325 degrees.

In a medium mixing bowl combine stuffing mix, water, butter, and cranberry sauce.

Using a small paring knife, cut a pocket in each pork chop by slicing the fat side almost to the bone. Spoon 1/4 cup stuffing into each pocket.

In a large skillet over medium high heat, brown pork chops in canola oil.

Transfer pork chops to a 9 x 13 inch baking pan. Bake uncovered for 1 hour and 15 minutes or until juices run clear.