Cranberry Sweet Potato Hash with Poached Egg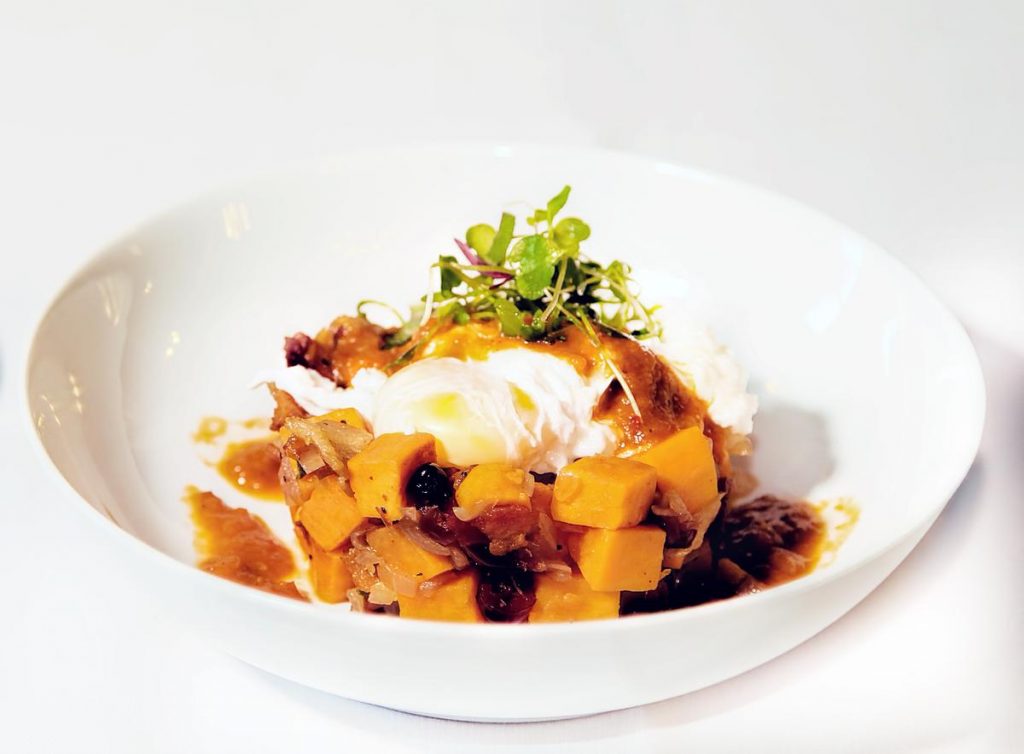 Ingredients
1 1/3 dried cranberries

1/4 cup Amontillado Sherry

1/2 lb. thick cut smoked bacon, medium dice

2 cups Vidalia onion, small dice

3 whole sweet potatoes, peeled, medium dice

2 oz sage, chiffonade

3 Tbsp apple cider vinegar

4-6 whole eggs, poached or sunny side up

4 Tbsp peach preserves

8 tsp chipotle hot sauce

Salt and pepper to taste
Instructions
Directions
Mix sherry with dried cranberries, wrap and refrigerate. Allow cranberries to plump and soften for at least 2 hours- overnight is preferred.

In a saute pan, cook bacon over medium-high heat until browned and crispy. Remove bacon from pan and set aside.

Saute onions over medium-high heat in bacon fat until translucent and slightly browned. Season lightly with salt and pepper.

Add cranberry and sherry mixture to onions and saute for 1 minute.

Add sweet potatoes and cooked bacon and reduce heat to medium. Season lightly with more salt and pepper.

Continue sauteing, stirring occasionally, until sweet potato is three-quarters of the way cooked through - firm, but not soft. Increase heat to high. Allow sweet potato to brown while it finishes cooking through.

Deglaze pan with cider vinegar. Add sage and m ix. Adjust seasoning with salt and pepper, to taste, and set aside.

Combine peach preserves with chipotle hot sauce.

Place warm hash in bowl and top with warm poached egg. Garnish with hot sauce blend, to taste.
Source
James Patterson, Flik Independent School Dining Cranberry Recipe Contest