Cranberry & Turkey Stuffing Casserole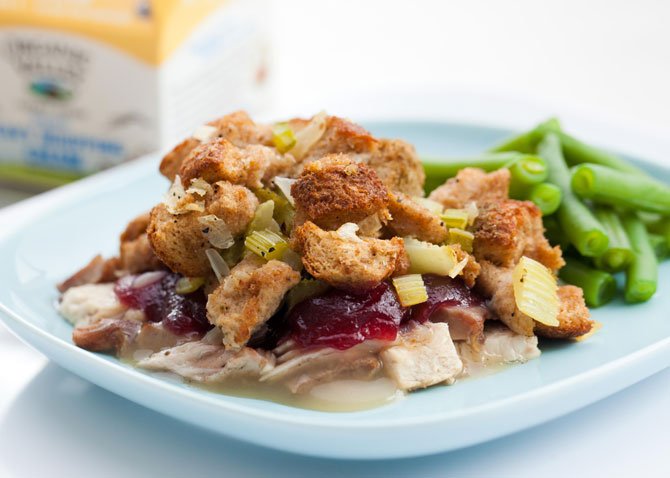 Ingredients
3

Tbsp.

Oil, vegetable

1 1/2

qt.

Onion, minced

1 lb. 14 oz.

1 1/2

qt.

Celery, minced

2 lb. 4 oz.

1

Tbsp.

Poultry seasoning

1

tsp.

Ground black pepper

2

qt.

Chicken stock, low fat, reduced sodium, heated

1 1/2

gal.

Whole grain bread, cut into 1-in. pieces

3 lb.

3

qt.

Cooked turkey pieces

6 lb.

2

qt.

Prepared turkey gravy

3

qt.

cranberry sauce, divided

Steamed broccoli spears, optional
Instructions
In a large skillet, heat oil over medium-high heat; add onions and celery and cook 2 minutes. Mix in poultry seasoning and pepper and continue to cook 30 seconds. Pour in hot broth and heat through.

Stir in bread pieces and mix to combine. Cook until stuffing mixture is moist and heated through. Remove from heat and hold.

Combine turkey and gravy and spread evenly in the bottom of a 2-qt casserole dish. Next, spoon half of the cranberry sauce (¾ cup) on top of the turkey-gravy layer. Gently spread the reserved stuffing mixture evenly on top of cranberry sauce.

Bake in a 350°F oven for 30-35 minutes or until heated through and firm. Top will be slightly crunchy.

Scoop a 1-cup portion of casserole onto a plate and serve with an additional 2 Tbsp. of cranberry sauce on the side. Serve with steamed broccoli, if desired.
Serving
One serving provides 1 oz. eq. grains, 2 oz. eq. meat/meat alternate, 1⁄4 cup fruit, 1⁄4 cup other vegetables
Nutrients per serving
Calories 314 kcal, Total Fat 6.03 g, Saturated Fat 1.65 g, Trans Fat 0 g, Cholesterol 45.56 mg, Sodium 675.83 mg, Carbohydrate 43.17 g, Dietary Fiber 3.45 g, Protein 21.84 g, Vitamin C 3.37 mg, Calcium 63.80 mg, Iron 2.33 mg, Vitamin A 8.78 RE (128.14 IU), 4.73% Calories from Saturated Fat
Cooling
CCP: Cool to 70˚F or lower within 2 hours and from 70˚F to 40˚F within 4 more hours. Place in shallow pans with a product depth of 2 inches or less and refrigerate or place shallow pans of product into ice bath, immerse pans into ice up to product level and stir frequently. Cover and label product.
Reheating
CCP: Reheat to 165˚F or higher for 15 seconds, within 2 hours.
Sanitation instructions
Wash hands and exposed parts of arms before handling food, after handling raw foods and after any interruption that may contaminate hands. Wash, rinse and sanitize all equipment and utensils before and after use. Return all ingredients to refrigerator if preparation is interrupted. Measure all internal product temperatures with a cleaned and sanitized thermocouple or thermometer every 2 hours. Thaw frozen product properly using an FDA recommended method.