Cranberry & Turkey Stuffing Casserole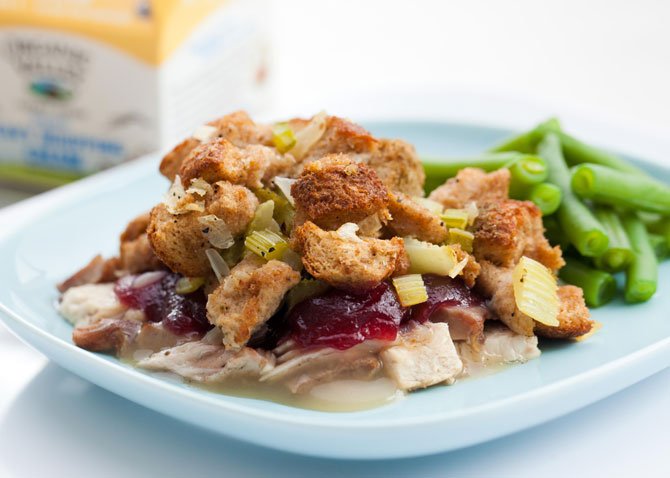 Ingredients
1 T vegetable oil

¾ cup minced yellow onion

¾ cup minced celery

½ tsp. poultry seasoning

⅛ tsp. ground black pepper

¾ cup low-fat, reduced sodium chicken broth

3 cups whole grain bread, cut into 1-in. pieces

12 oz. cooked, diced turkey

1 cup prepared turkey gravy

1 ½ cups cranberry sauce

Steamed broccoli spears, optional
Instructions
In a large skillet, heat oil over medium-high heat; add onions and celery and cook 2 minutes. Mix in poultry seasoning and pepper and continue to cook 30 seconds. Pour in hot broth and heat through.

Stir in bread pieces and mix to combine. Cook until stuffing mixture is moist and heated through. Remove from heat and hold.

Combine turkey and gravy and spread evenly in the bottom of a 2-qt casserole dish. Next, spoon half of the cranberry sauce (¾ cup) on top of the turkey-gravy layer. Gently spread the reserved stuffing mixture evenly on top of cranberry sauce.

Bake in a 350°F oven for 30-35 minutes or until heated through and firm. Top will be slightly crunchy.

Scoop a 1-cup portion of casserole onto a plate and serve with an additional 2 Tbsp. of cranberry sauce on the side. Serve with steamed broccoli, if desired.