Cranberry White Chocolate Cheesecake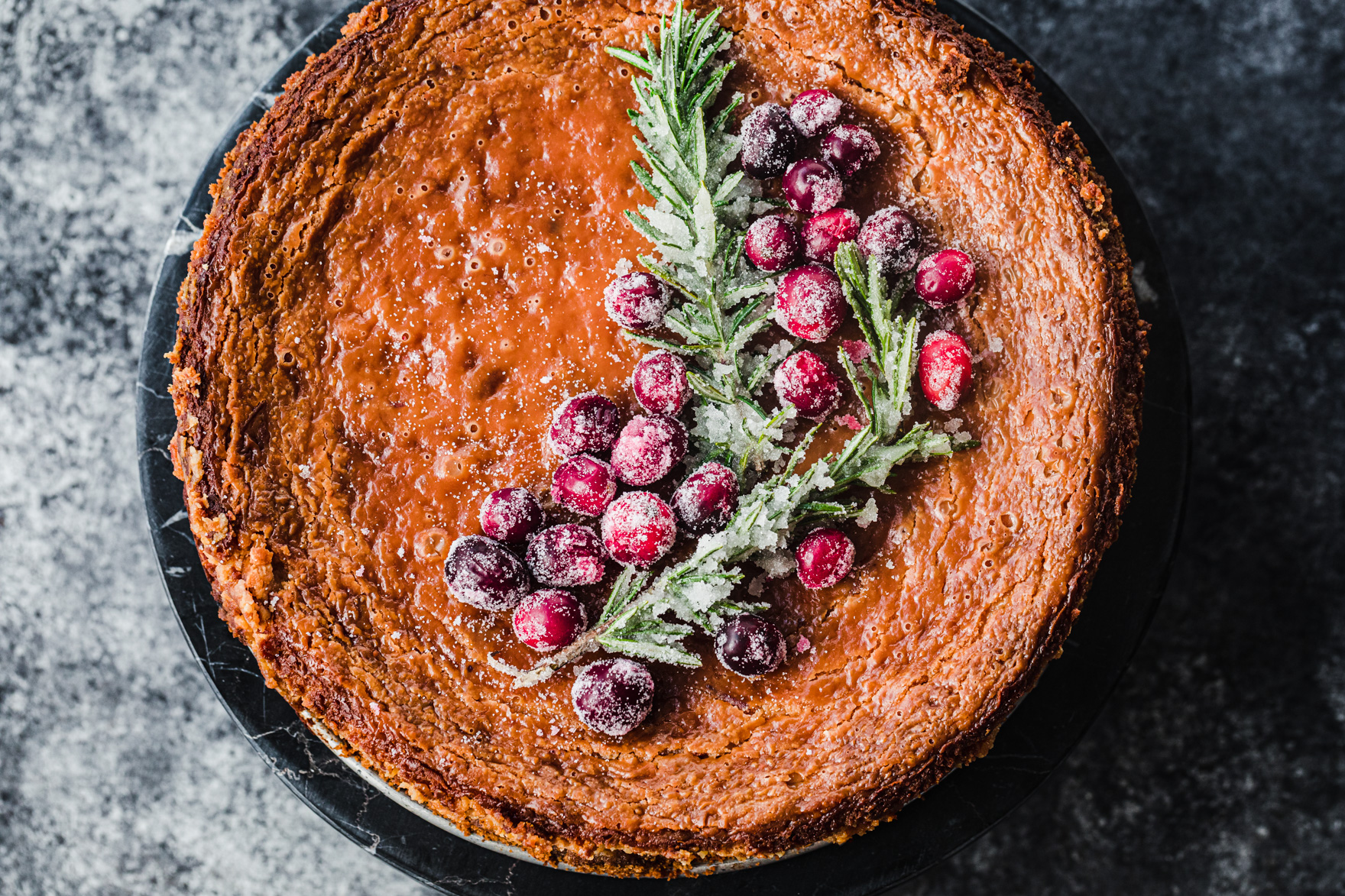 Ingredients
10 graham crackers

6 Tbsp butter, melted

3 tbsp sugar

1/2 tsp Kosher salt
Cheesecake
12 oz fresh or frozen cranberries

1 cup sugar, divided

2 Tbsp Water

8 oz. white chocolate

16 oz mascarpone, room temp

16 oz cream cheese, room temp

1 Tbsp vanilla extract

1/2 Tbsp Kosher salt

4 eggs, room temp and lightly beaten
Cheesecake Toppings (optional)
sugared cranberries

sugared rosemary
Instructions
Preheat oven to 375 F degrees.

Place the graham crackers in the bowl of a food processor and pulse until small crumbs are beginning to form. Add the melted butter, sugar and salt; pulse until incorporated.

Press the graham cracker mixture into the bottom and sides of the springform pan. Chill the crust in the fridge for 15 minutes, then bake for 10. Allow the crust to cool completely. Lower the oven to 350 F degrees.

For the cranberries: Bring the cranberries, 1/2 cup of sugar, and the water to a simmer in a saucepan over medium heat. Simmer the cranberries, uncovered, for about 15 minutes, until they've popped, and the mixture is quite thick. Set aside to cool while making the rest of the cheesecake filling.

For the white chocolate, melt it in a bowl over (but not touching) simmering water, creating a double boiler. Stir gently and continuously until it's melted. Remove from heat and set aside while making the rest of the cheesecake filling.

In the bowl of a food processor, combine the mascarpone, cream cheese, sugar, vanilla extract, and salt. Run the processor, occasionally scraping down the sides of the bowl with a rubber spatula, then running again, slowly adding the eggs and running until all ingredients are mixed together.

Add the cranberries and melted white chocolate into the bowl of the food processor with the cream cheese mixture and run processor until fully incorporated and completely smooth, about 1 minute longer.

Pour the cranberry, white chocolate cheesecake mixture into the cooled crust. Bake at 350 for 1 hour and 10 minutes. The outside will be set but the center may still jiggle slightly. Chill for at least 3 hours or overnight to set. (Cheesecake can be stored, chilled, for up to 3 days).

Run a knife around the edge of the chilled cheesecake to loosen it from the springform pan and remove the rim. Serve cheesecake with optional toppings or as is.