Cranberry Wholemeal Chocolate Muffins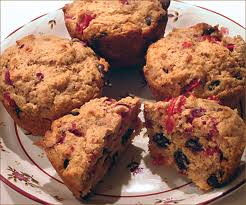 Ingredients
Ingredients for Cranberry Wholemeal Chocolate Muffins
2 1/4 cups flour, all purpose

1/2 cup flour, whole wheat flour

1/3 cup cocoa powder

1/3 cup granulated sugar

1 T baking powder

1/2 tsp. orange peel

1/4 tsp. salt

1 1/4 cups milk

5 T butter, melted

1 egg

3/4 cup dried sweetened cranberries

6 oz chocolate chips
Instructions
Directions
Preheat oven to 350 degrees.

Grease or butter muffin pan.

Mix flours, cocoa powder, sugar, baking powder, orange peel and salt in medium bowl; set aside.

Blend milk, melted butter and egg in separate bowl. Add wet ingredients to dry ingredients and mix until just blended.

Fold in cranberies and chocolate chips.

Divide batter among muffin cups. Sprinkle with decorative icing sugar if desired.

Bake at 350 degrees for 15-18 minutes until lightly browned.