Cranzy Chicken Taco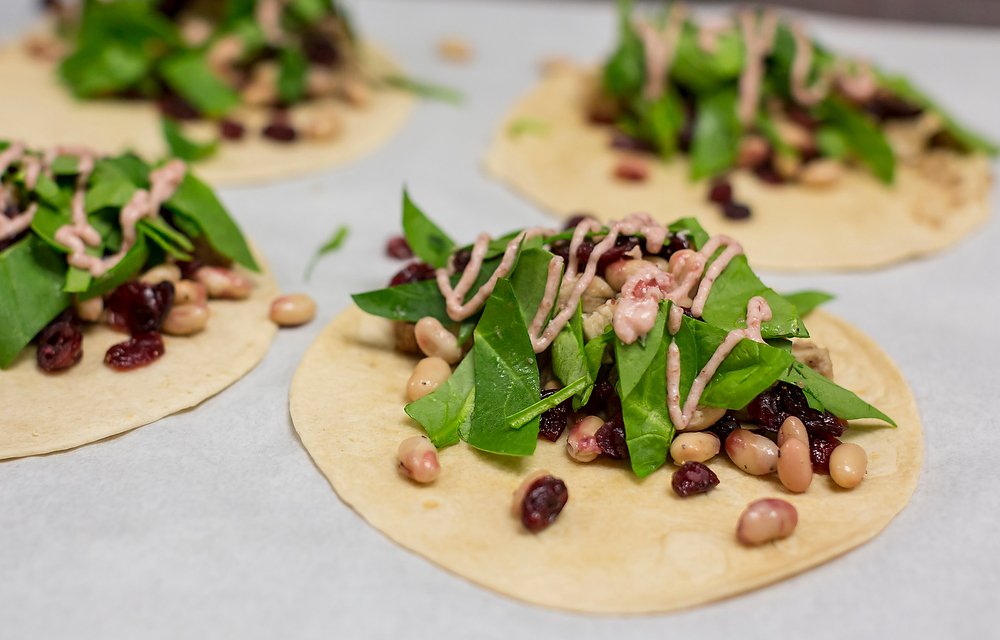 Ingredients
BEAN SALAD (makes 4 cups):

2 cups canned Great Northern beans, reduced-sodium, drained, rinsed

2 cups sweetened dried cranberries

¼ cup 100% apple juice

3 T chopped scallions or red onions

½ tsp. minced garlic

¼ tsp. ground black pepper

CHICKEN:

1 cup whole-berry cranberry sauce

1 T honey

12 oz. cooked, diced chicken

2 T grated Parmesan cheese

CRANBERRY MAYO (makes ½ cup):

¼ cup reduced-fat mayonnaise

¼ cup whole-berry cranberry sauce, mashed

1 T finely minced scallions

1/8 tsp. ground black pepper

ACCOUTREMENTS:

4 cups chopped fresh spinach

8 whole-grain 8-in. tortillas
Instructions
In a medium bowl, toss together all Bean Salad ingredients; mix well, cover and refrigerate at least 2 hours before serving.

In a large sauce pan, melt cranberry sauce with honey (about 2 minutes).

Add chicken to cranberry-honey mixture and toss to coat well. Sprinkle with cheese and mix to coat evenly.

Lay chicken in a single layer on a parchment-covered baking sheet and bake in 350°F convection oven or 400°F conventional oven for 6-8 minutes or until internal temperature reaches 165°F. Remove from heat and keep hot for serving.

In a small bowl, whisk together mayonnaise, cranberry sauce, scallions and pepper until combined; place in a covered container for serving.

Place ½ cup chopped spinach inside a tortilla, top with ¼ cup chicken and ½ cup bean salad and drizzle with 1 Tbsp. Cranberry Mayo. Fold tortilla with ingredients inside to form a hand-held taco.