Cranzy Chicken Taco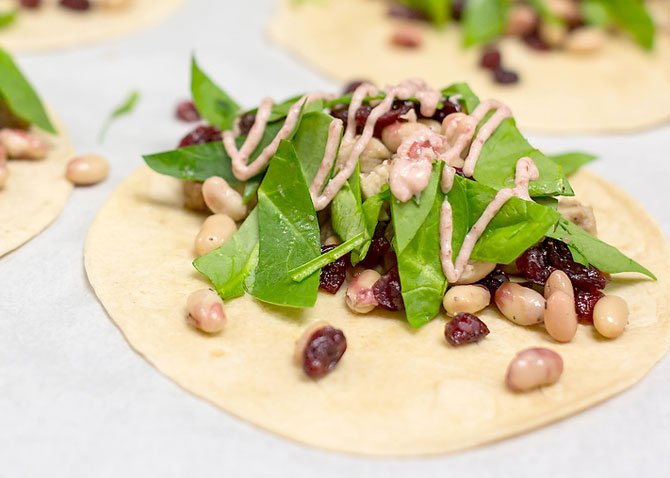 Ingredients
CHICKEN:

1 1/2 qt. Cranberry sauce, whole-berry

1/3 cup honey

4 1/2 lb. Chicken, cooked, diced, thawed

3/4 cup Cheese, parmesan, grated
BEAN SALAD:
3 qt. Beans, Northern canned, drained, rinsed, reduced-sodium

3 qt. Dried sweetened cranberries

1 1/2 cups Juice, apple, 100%

1 cup Scallions or onions, red, chopped

1 Tbsp. Garlic, fresh, minced

1 tsp. Pepper, black, ground
CRANBERRY MAYO:
1 1/2 cups Mayonnaise, reduced-fat

1 1/2 cups Cranberry sauce, whole-berry

1/4 cup Scallions, minced

1 tsp. Pepper, black, ground
ACCOUTREMENTS:
6 qt. Spinach, fresh, chopped

48 Tortilla, whole-grain, 8-inch
Instructions
Directions
In a large sauce pan, melt cranberry sauce with honey, about 2 minutes.

Add chicken and cheese to cranberry-honey mixture and toss to coat well.

Lay chicken pieces on parchment-covered sheetpans in a single layer. Bake in 350°F convection oven for 6-8 minutes or until internal temperature reaches 165°F. Hold hot for service.

In a bowl, toss together all Bean Salad* ingredients; mix well, cover and refrigerate at least 2 hours before serving.

In a bowl, whisk together mayonnaise, cranberry sauce, scallions, and pepper until combine; place in a wide mouth squeeze bottle, replace lid and hold at 40°F until ready to serve.

To Serve: Set up food bar to Build Your Own. Portion 1⁄4 cup chicken, 1⁄2 cup Bean Salad* and 1⁄2 cup spinach onto a tortilla. Drizzle with 1 Tbsp. Cranberry Mayo**. Wrap to serve.
Source
Created by Ingrid Rockwell of Deerfield Elementary School in Deerfield, WI for the Cranberry Marketing Committee USA / Wisconsin School Foodservice Cranberry Recipe Contest
Serving
One serving provides 1 3⁄4 oz. eq. grains, 1 1⁄2 oz. eq. meat/meat alternate, 1⁄2 cup fruit, 1⁄4 cup dark green vegetables, 1⁄4 cup vegetables – bean and peas (legumes)
Nutrients per serving
Calories 471 kcal, Total Fat 8.12 g, Saturated Fat 1.69 g, Trans Fat 0 g, Cholesterol 40.37 mg, Sodium 526.88 mg, Carbohydrate 77.88 g, Dietary Fiber 7.74 g, Protein 22.92 g, Vitamin C 8.63 mg, Calcium 169.64 mg, Iron 4.34 mg, Vitamin A 103.90 RE (1429.54 IU), 3.24% Calories from Saturated Fat
Cooling
CCP: Cool to 70˚F or lower within 2 hours and from 70˚F to 40˚F within 4 more hours. Place in shallow pans with a product depth of 2 inches or less and refrigerate or place shallow pans of product into ice bath, immerse pans into ice up to product level and stir frequently. Cover and label product.
Reheating
CCP: Reheat to 165˚F or higher for 15 seconds, within 2 hour
Sanitation instructions
Wash hands and exposed parts of arms before handling food, after handling raw foods and after any interruption that may contaminate hands. Wash, rinse and sanitize all equipment and utensils before and after use. Return all ingredients to refrigerator if preparation is interrupted. Measure all internal product temperatures with a cleaned and sanitized thermocouple or thermometer every 2 hours. Thaw frozen product properly using an FDA recommended method.