Dried Cranberry Arroz Con Pollo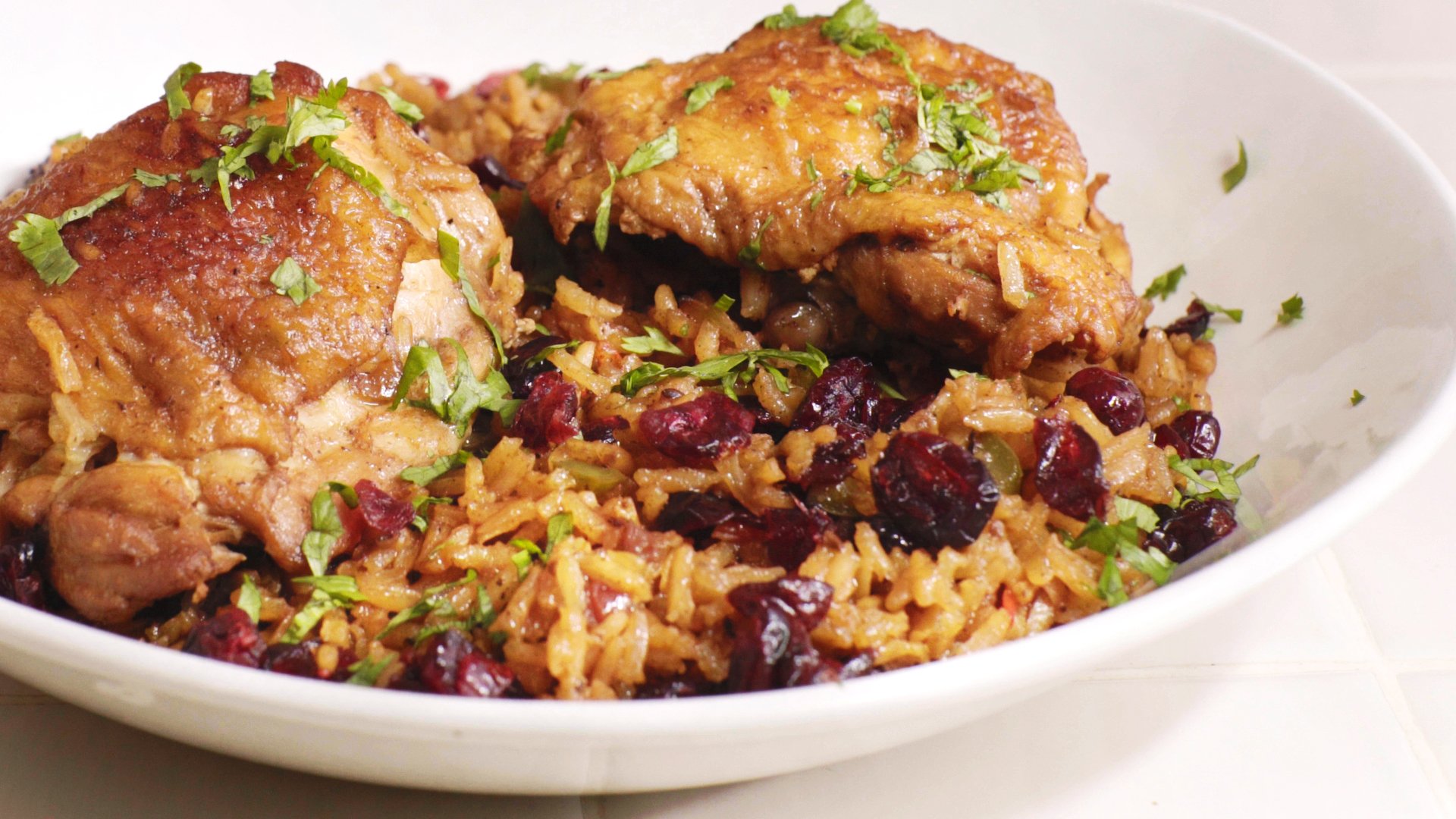 Ingredients
3 Tbsp. Olive oil

4 Chicken thighs, skin on

1 tsp. Salt, divided

1 Onion, small, finely chopped

2 Garlic, cloves, chopped

1/4 cup Dried cranberries, chipped

1 1/2 cup Rice, long grain

1 Pepper, red bell, diced

1 tsp. Onion powder

1 tsp. Garlic powder

1 tsp. Achiote paste

1/2 tsp. Cumin, dried

1/4 tsp. black pepper

1/4 tsp. White pepper

1 bay leaf

1 1/2 cup Chicken stock

1/2 cup crushed tomatoes
Garnish
1/2 cup dried cranberries

1/4 cup Cilantro, finely chopped
Instructions
Heat oil in saucepan set over medium heat; cook chicken thighs, skin side down. Sprinkle with ½ tsp salt. Cook, turning once, for about 10 minutes or until golden and cooked through. Transfer to plate using slotted spoon; set aside.

Add chopped onion, garlic and cranberries to pan; cook, stirring occasionally, for 4 to 5 minutes or until fragrant. Stir in rice. Cook, stirring occasionally, for about 5 minutes or until translucent.

Stir in bell pepper, onion and garlic powders, achiote paste, cumin, black and white pepper, remaining salt, bay leaf, chicken stock and tomatoes. Return chicken to pan. Bring to boil; reduce heat to medium and cook for about 20 minutes or until rice is cooked and liquid is absorbed. Discard bay leaf.

Garnish: Sprinkle dried cranberries and cilantro over top. Serve immediately.