Fall Tabletop Cranberry Garland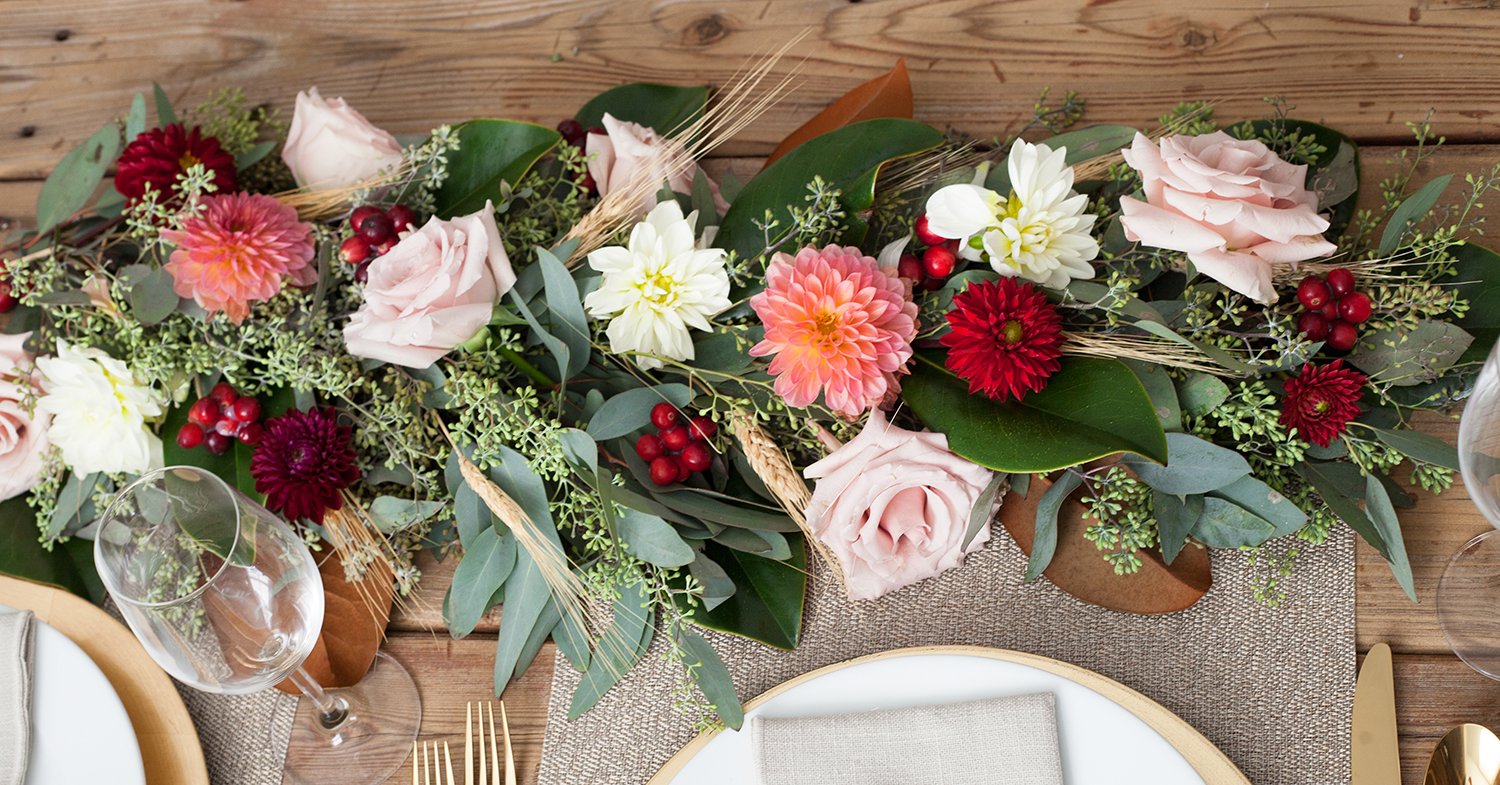 Ingredients
floral cutters or kitchen shears

thin gauge floral wire on a paddle

wire cutters

2 cups fresh cranberries

glue gun

wooden skewers, disposable chopsticks or floral stakes

individual floral water tubes (optional)
Instructions
Prepare dark and light base greenery by cutting into smaller branches with exposed base stem.

Begin building garland by taking several small base greens in hand in a small bundle, building to stagger and lengthen the bundle. Once a small bundle is created, use the paddle floral wire to wrap the base of the stems to the string. Wrap tightly around the greenery bundle base several times and begin to create your next base bundle. Do not cut the wire.

Continue to repeat above steps until you reach almost the end of the garland. For the final garland bundle, rotate it to go the opposite direction to cover the stems of the previous garland bundle. Continue wire wrapping to secure, then cut wire.

To create cranberry clusters, take a handful of cranberries (approximately 5-7) and use a glue gun to glue together in a cluster. Add hot glue to one end of a green floral stake, chopstick or wooden skewer, and insert into the center of the cranberry cluster. Make several and set aside to cool. Add into garland, evenly distributing throughout for desired appearance.

To add in larger floral pieces, cut close to the head of the flower and place throughout the garland as desired. To add statement greenery like magnolias or wheat, cut stems close to head and place throughout garland as desired. Do this close to the time of your event to keep flowers as fresh as possible. To extend the life of flowers, insert individual water tubes.
Notes
To make a garland that works with what you have, pick at least one type of greenery or floral aspect for each of the three below categories: – Dark Color Base: (used here) 3 bunches eucalyptus and 1 bunch magnolia leaves – Light Color Base: (used here) 1 bunch wheat – Impact Florals: (used here) 1 bouquet dahlias and 1 bunch roses
Source
Carlene Thomas, RDN, LD; Healthfully Ever After To make a garland that works with what you have, pick at least one type of greenery or floral aspect for each of the three below categories: -Dark Color Base: (used here) 3 bunches eucalyptus and 1 bunch magnolia leaves -Light Color Base: (used here) 1 bunch wheat -Impact Florals: (used here) 1 bouquet dahlias and 1 bunch roses