Halibut Fillets with Cranberries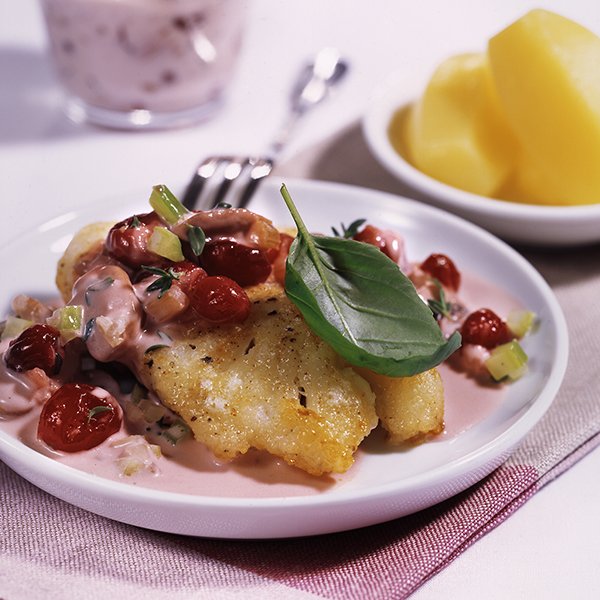 Ingredients
1/4 cup dried cranberries

1 celery stalk

3 shallots

1/2 cup champignons

3 sprigs of thyme

4 Tbsp dry vermouth

5 oz chicken stock or vegetable stock

3/4 cup cream

5 oz halibut

2 Tbsp butter

1/2 bunch of basil

Salt and pepper
Instructions
Add cranberries to 75 ml of boiling water (approx. 7Tbsp) and let it cook for about 15 minutes. Wash celery, peel shallots and dice both. Brush champignons with a cloth, wash them briefly if necessary, dry thoroughly, and cut into thin slices.

Add cranberries with boiled water in a small pot and bring to a boil until the liquid is almost vaporized. Add celery, shallots and mushrooms and saute for 1-2 minutes, stirring occasionally. Afterwards, add thyme and deglaze with vermouth and stock. Cook over high heat by three quarters. Add the cream and cook it again for several minutes until the sauce is creamy.

Divide the halibut into 4 portions and season with salt and pepper. Fry it with 1-2 Tbsp butter in a non-stick frying pan for 2-4 minutes per side. (2 minutes for thin fillets and 4 minutes for thick fillets).

Season cranberry-sauce to taste. Serve with fish fillets and garnish with basil leaves. Simple potato side dishes such as boiled potatoes fit well with this dish.

Tip: You can use 1/2 cup fresh cranberries instead of dried cranberries for the sauce. Melt 1 Tbsp of sugar in a small saucepan and briefly caramelize the cranberries. Add celery, shallots and mushrooms and let it cook for 1-2 minutes. Then continue working on the recipe above.