Individual Cranberry Tarts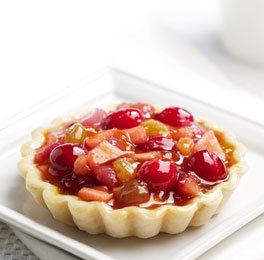 Ingredients
2 cups all-purpose flour

1 tablespoon sugar

2 tablespoons vegetable shortening

1 teaspoon salt

1 stick (1/2 cup) unsalted butter

4-5 tablespoons cold water

3 cups fresh or frozen, thawed cranberries

2 apples, peeled, cored, and chopped

1/4 cup orange juice

1 15-oz. can pear halves, drained and chopped

3/4 cup golden raisins

1/2 cup sugar

1/2 teaspoon ground cinnamon

1/2 teaspoon almond extract

1 cup apricot jam

2 tablespoons sugar

3 tablespoons dark rum
Instructions
In a medium mixing bowl combine flour, salt and 1 tablespoon sugar. Use a fork to cut the butter and vegetable shortening into flour mixture.

When mixture resembles coarse meal, sprinkle water one tablespoon at a time over flour and toss gently with a fork. Continue process until mixture holds together, and then form dough into a ball, flatten into a disk shape, wrap dough in foil wrap and refrigerate for 1 hour or longer.

Preheat oven to 450 degrees.

Roll out dough on a floured surface. Cut individual circles about 1 inch larger than the tart pans. Fit the circle into the tart pan, folding the excess dough evenly under the edge to make a ridge. (NOTE: If you dont have mini tart pans, you can make tart shells on inverted muffin tins or custard cups by fitting the pastry circles over cups.)

Bake tart shells for 10 minutes.

Cool completely on wire racks before filling.

Make the Cranberry Filling:

Combine cranberries, apples, pears, raisins, 1/2 cup sugar, orange juice and cinnamon in a heavy saucepan. Stir over medium heat until mixture comes to a boil. Reduce heat and simmer until mixture thickens.

Remove from heat and stir in almond extract. Place filling in a bowl. Cover with plastic wrap and refrigerate until well chilled.

Fill cooled tart shells with filling.

Prepare the Apricot Glaze:

In a small saucepan blend together apricot jam, 2 tbs sugar and dark rum. Bring to a boil. Boil several minutes while stirring continuously.

Brush warm glaze over filled tarts.