Kale & Cranberry Crisps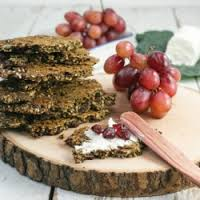 Ingredients
Ingredients for Kale & Cranberry Crisps
Parchment paper

1 medium bunch (1-1/4 cups) Tuscan kale

1 tsp. peanut or coconut oil

1/4 cup buttermilk

2 T molasses

1/4 cup pecans

1/4 cup sunflower seeds or hulled pumpkin seeds

1/4 cup poppy seeds

1/4 cup dried sweetened cranberries

1 small sprig rosemary, finely chopped

1 tsp. salt

1 tsp. baking soda

2 T brown sugar

1/2 cup flour
Instructions
Directions
Heat oven to 220 C (425 degrees) and line a large baking sheet with parchment.

Toss kale leaves in oil and lay out in a single layer on baking sheet. Bake for 8 to 10 minutes until crisp but still bright green. Set aside to cool. Reduce oven heat to 120 C (250 degrees F).

In a small saucepan, combine buttermilk and molasses. Whisk over low heat until well mixed and set aside to cool. Combine dry ingredients and crispy kale in food processor and pulse a few times until pecans and larger nuts are finely chopped but still distinct. In two batches combine wet ingredients into dry and pulse briefly, just until a dough forms.

Transfer dough to a large parchment-lined baking sheet, then top with a second sheet of parchment (feel free to reuse the parchment from the firststep). With a rolling pin, roll out dough to a thickness of about 3mm (1/8 inch). Bake for 30 minutes, then remove top layer of parchment and turn heat off, leaving crisps in oven for 8 hours. Cut or break crisps into pieces and store in an airtight tin or bag. These are especially delicious as part of a cheese course.
Source
Recipe courtesy of: Sharon Hanna from The Book of Kale