No Bake Mini Cranberry Coconut Lime Cheesecake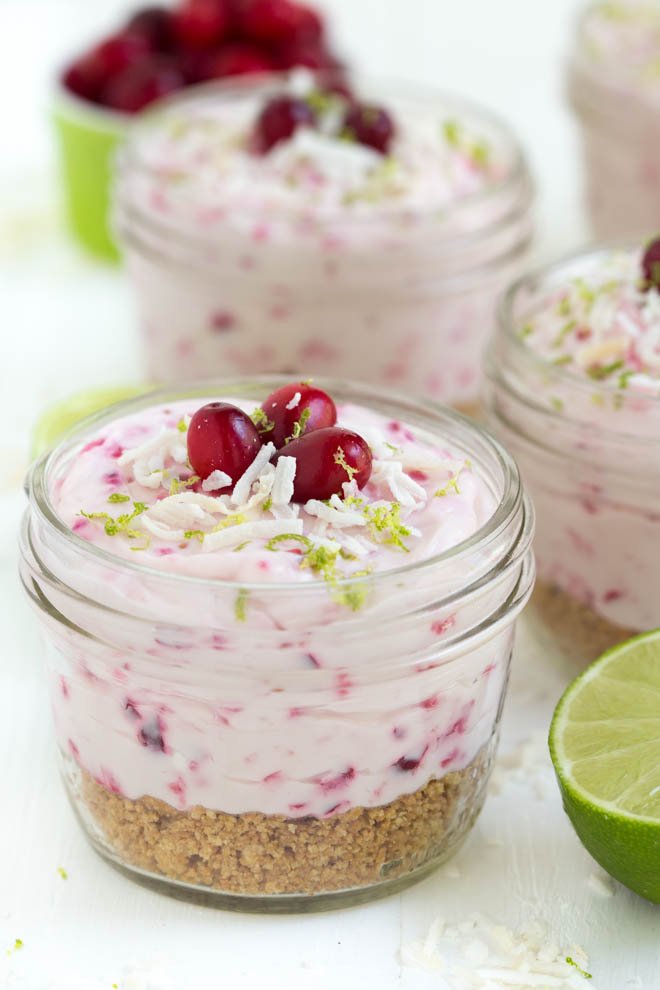 Ingredients
For the crust:

1 cup graham cracker crumbs

1 Tablespoon granulated sugar

3 tablespoons butter, melted

For the Filling:

1 cup frozen cranberries, thawed + more for garnish

10 ounces cream cheese, at room temperature

4 ounces crème fraîche

½ cup coconut cream

⅔ cup sifted confectioners' sugar

Zest from one lime + more for garnish

Shredded coconut
Instructions
Directions
To make the crust, combine the graham cracker crumbs, sugar and butter in a small bowl. Stir with a fork until the graham cracker crumbs are moistened. Press the graham cracker mixture into individual 4-ounce jars. Set aside.

To prepare the filling, in the bowl of a food processor, pulse cranberries until pureed. Set aside.

In an electric mixer fitted with the paddle attachment, beat the cream cheese on medium speed until smooth. Add the crème fraîche and coconut cream and mix until combined. Slowly add the confectioners' sugar, scraping down the sides of the bowl as needed. Mix until smooth. Fold the pureed cranberries and lime zest into the cheesecake mixture until combined.

Spoon filling over crust and chill until firm, about 2 hours. Garnish with lime zest, shredded coconut and cranberries, as desired. Enjoy!
Source
Ashley Cote, Spoonful of Flavor