Orange, Olive and Fennel Salad with Cranberry Vinaigrette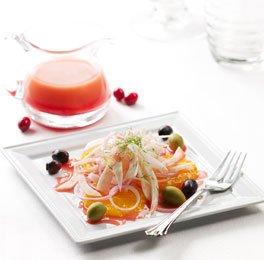 Ingredients
For the Vinaigrette - 1 cup fresh or frozen, thawed cranberries

1/2 cup fresh orange juice

1 tablespoon finely chopped shallot or green onion, white part only

2 tablespoons rice vinegar

1 tablespoon honey

1 tablespoon fresh lime or lemon juice

1/3 to 1/2 cup canola or neutral olive oil

Kosher or sea salt

Freshly ground pepper

For the Salad - 3 large navel oranges, peeled and sliced 1/4 inch thick

1 large head fennel, sliced paper thin vertically

1 small sweet red onion, peeled and thinly sliced in rings (soak in ice water if the flavor is too strong)

2/3 cup mixed country-style olives, such as Nicoise, cracked green or Sicilian
Instructions
For the Vinaigrette - In a blender or food processor, combine the cranberries, orange juice, shallot, vinegar, honey, and lime juice; puree. With the motor running, slowly add the oil to the desired consistency.

Over a medium bowl, strain the puree through a fine-mesh strainer, pushing down on the solids.

Season to taste with salt and pepper. Store, covered, in the refrigerator for up to 5 days.

For the Salad - Arrange the oranges, fennel and onion attractively on a plate.

Scatter the olives around and drizzle with 3-4 tablespoons of the vinaigrette.

Garnish with the fennel sprigs (the top leafy part of the bulb).