Pasta Caponata with Cranberries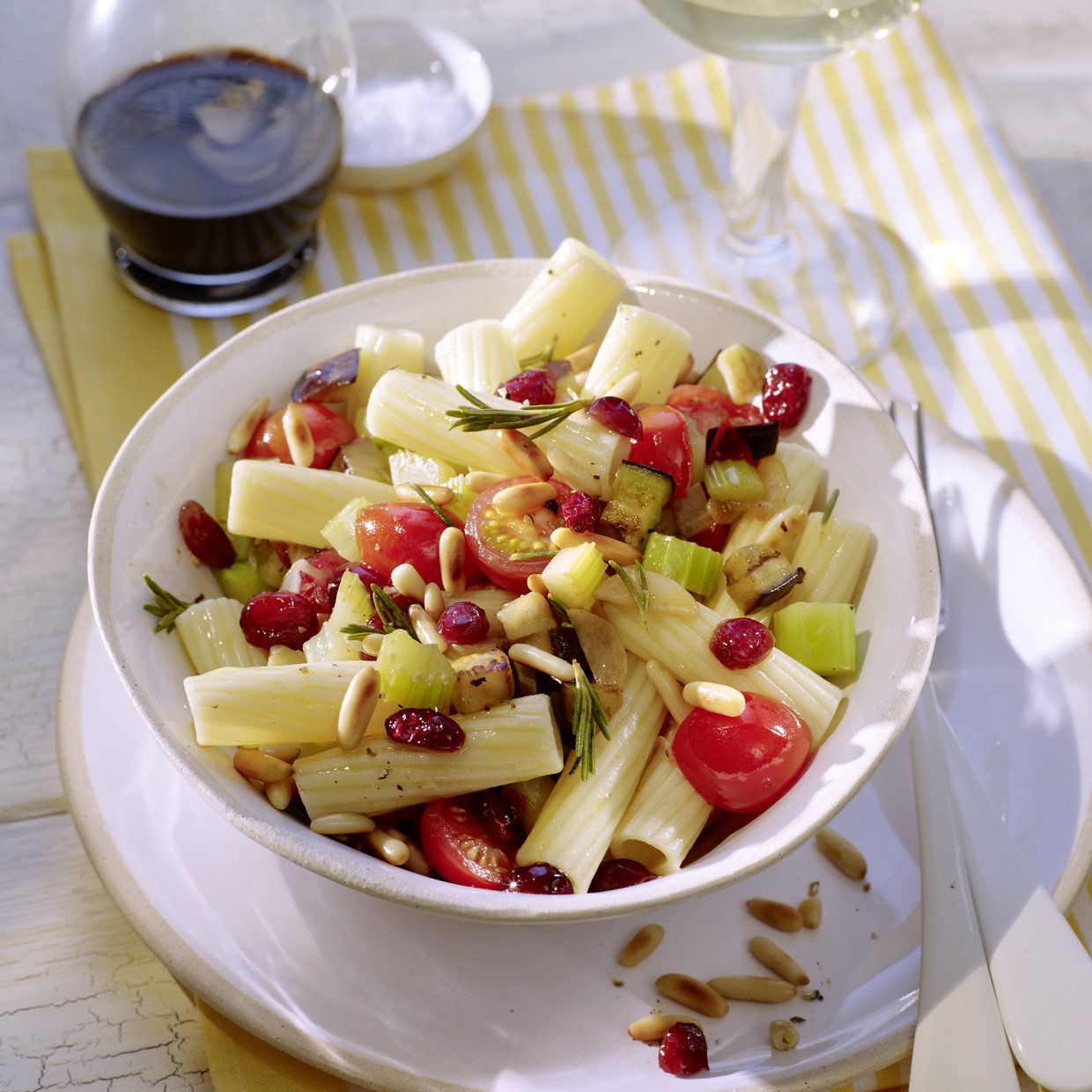 Ingredients
1/4 cup dried cranberries

1/4 cup pine nuts

2/3 lb. eggplants

2/3 cup celery

1 lb. cherry tomatoes

1 medium-sized onion

1 clove of garlic

2 sprigs of rosemary

2/3 lb. tortiglioni pasta

Salt

8 tablespoons olive oil

Pepper

- 1 teaspoon sugar

2 tablespoons aceto balsamic vinegar
Instructions
Directions
Soften the cranberries for 10 minutes in warm water and then strain them. Roast the pine nuts in an ungreased frying pan until they are golden brown. Clean the eggplants and celery and cut them into 1 cm large strips. Cut the tomatoes into halves. Cut the onion into halves and then chop it into strips. Chop the garlic into fine slices. Strip the rosemary needles from their stems and roughly chop them.

Cook the noodles in accordance with the instructions of the package. In the meantime, heat 2 tablespoons of oil in a large pan. Fry the eggplant for 5 minutes in this. Add 2 tablespoons of oil, onion, garlic, celery and rosemary and fry this with the mixture for 5 minutes. Season with salt and pepper. Sprinkle sugar on the vegetables and briefly fry them. Mix in the cranberries and tomatoes and fry them for 1 minute..

Strain the noodles and collect 200 ml of the water in which the noodles were boiled. Add this water to the vegetables and bring to a boil. Mix in the noodles and 4 tablespoons of oil. Season with salt, pepper and aceto balsamic vinegar. Serve with the pine nuts sprinkled on top.
Source
Top 20 Cranberry Recipes to Watch 2014