Pear, Parma Ham & Goat Cheese Stacks with a Cranberry Glaze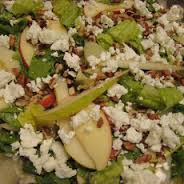 Ingredients
Ingredients for Pear, Parma Ham & Goat Cheese Stacks with a Cranberry Glaze
1 cup cranberry juice

1 T white wine vinegar

3 T sugar

1 T dried cranberries

2 pears, thinly sliced

3 oz. goat cheese

6-8 pieces of Parma Ham & a handful of Rocket lettuce

Freshly ground black pepper to taste

2 Pitas, toasted & quartered, to serve
Instructions
Directions
Bring the cranberry juice, vinegar, sugar and cranberries to a boil in a small saucepan. Allow the mixture to gently bubble away until reduced by almost half - about 10-15 minutes. It should resemble the consistency of a classic balsamic vinegar reduction.

Loosely stack a few pieces of pear, goats cheese and Parma Ham onto each plate. Scatter over some rocket leaves and add a drizzle of the cranberry glaze and some ground black pepper.

Serve with the toasted pita wedges.
Source
Recipe Courtesy of: The Citizen Online-Lifestyle Features