Pickled Cranberries & Goat Cheese Crostini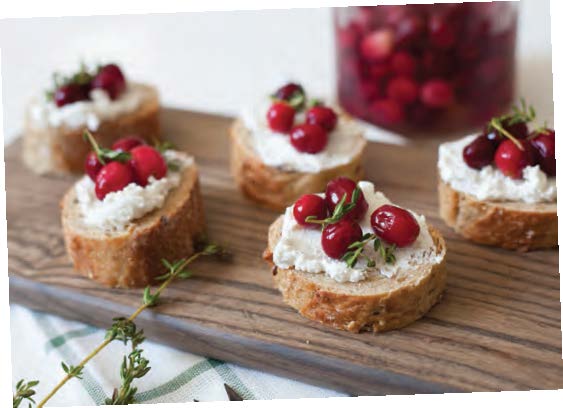 Ingredients
Pickled Cranberries:

1 cup apple cider vinegar

2 cups water

1 tablespoon kosher salt

2 tablespoons granulated sugar

1 tablespoon whole mustard seed

1 teaspoon ground cumin

2 cups whole fresh cranberries

Crostini:

1 whole grain baguette, approximately 2 feet long

8 oz. packaged tube of mild goat cheese

2 cups pickled cranberries

6 sprigs of fresh thyme, cut to garnish
Instructions
To make pickled cranberries

Add vinegar and water to a small saucepan and heat over medium-high heat.

Stir in salt and sugar until dissolved and bring liquid to a boil.

Once boiling, turn off heat and remove pan from heat.

Add spices and fresh cranberries to the quart-size jar.

Pour vinegar mixture over cranberries.

Close lid and shake.

Cool and refrigerate overnight. Invert the jar periodically to evenly cover cranberries with liquid.

To make crostini

To build crostini, slice baguette into approximately 1-inch thick rounds, toast baguette slices if desired.

Spread cut side with goat cheese and top with a strained spoonful of cranberries.

Top with fresh thyme.