Pork Roulade with Seasonal Greens & Pickled Cranberries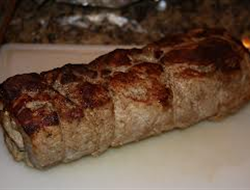 Ingredients
Farce Meat
1 pint blackberries

2 oz Lachsschinken Ham

1/2 cup heavy cream
Roulade
2 Pork Tenderloins

32 1 1/2 cup basil leaves, fresh (blanched)

8 Serano Ham Slices

Salt and pepper to taste
Salad
12 oz. cranberries (fresh or frozen)

1 1/4 cups sugar

1 1/4 cups cider vinegar

1/2 cup apple cider

6 cloves

1/2 tsp. Allspice (fresh ground)

1/2 tsp. black peppercorns

3 sticks Cinnamon

2 tbsp Mustard Seeds

3/4 cup water
Instructions
Preparation for Farce Meat: Add ham to blender and grind until smooth. Add blackberries and cream, mix until combined. Reserve for stuffing of the Roulade.

Preparation for the Pork Roulade: Butterfly the pork and pound lightly until 1/4 thick. Lay out the sliced Serrano ham on a sheet of plastic wrap.

Add basil leaves on top of the ham. Add pork on top of the basil leaves. Add a good amount of the farce meat on top of the pork and roll into a tight tubular shape with the plastic wrap and freeze for 1 hour. Remove pork from freezer, sear in a pan and cook in the oven to desired temperature.

Preparation for Pickled Cranberries: Rinse cranberries and drain off excess water.

Combine all ingredients into a pot and bring to a rapid boil, simmer for 2 minutes and remove from heat and cool for about 40 minutes.

While cranberries are cooling, add glass jars to boiling water and set on a counter to chill. Once cranberries have cooled down, pour into glass jars and cover with any remaining liquid and cover with lids. Place cranberries into a refrigerator and let settle for a week or so before use. Note: These cranberries will last for up to 3 to 5 months.

Preparation for Greens Salad: Use seasonal greens, pickled cranberries & juice to taste.