Pulled Pork Taco with Cranberry Salsa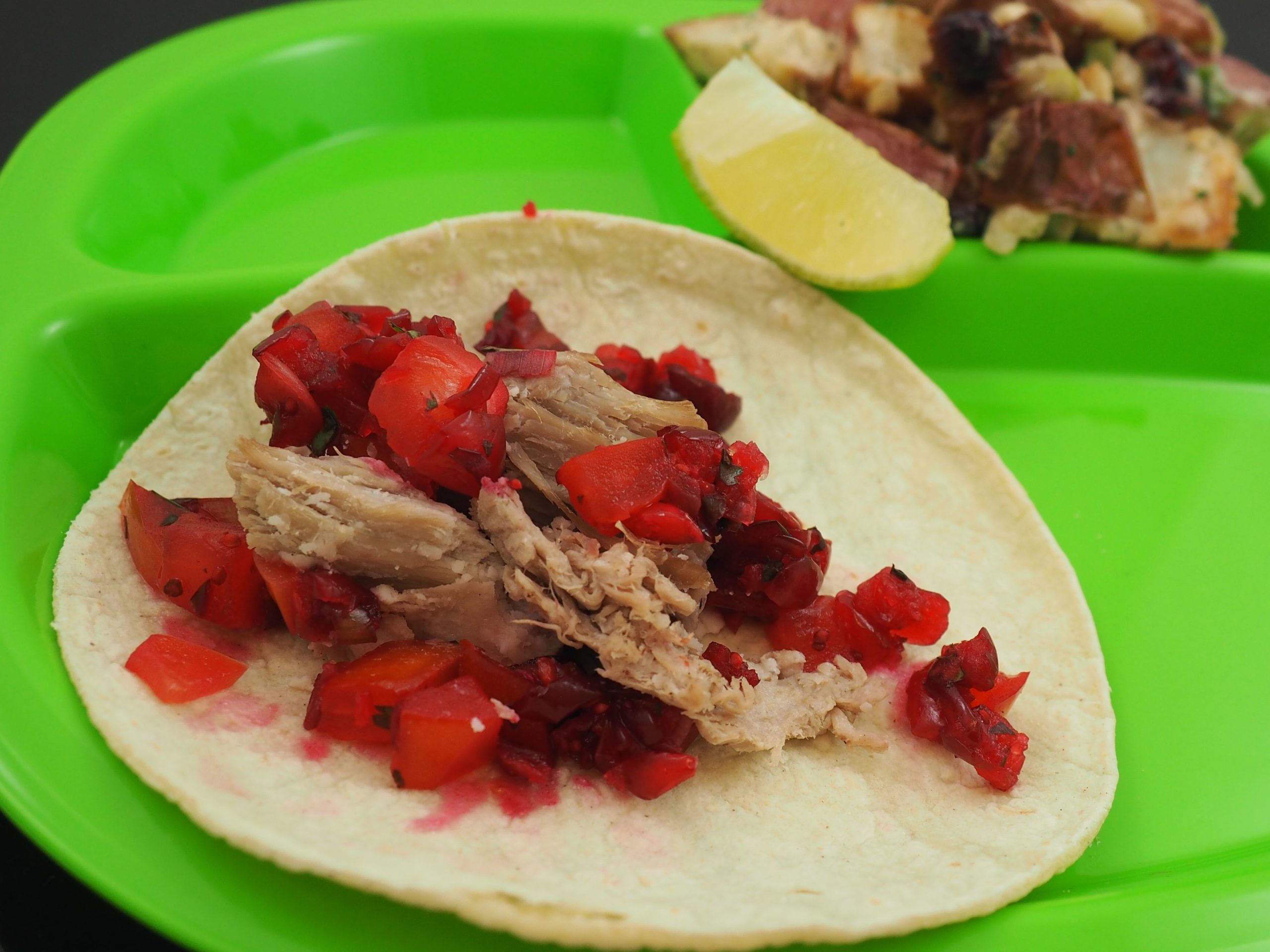 Ingredients
6.25 lb. carnitas

50 6-inch tortillas

7 cups cranberry salsa
Cranberry Salsa
4 cups cranberries whole, defrosted

1 lb mango, fresh, medium dice

1/8 cup cilantro, chopped, fresh

1/8 cup green onion, chopped

2 Tbsp granulated sugar

1 tbsp lime juice

2 cups fresh diced tomatoes
Instructions
Place all ingredients except diced tomatoes in food processor.

Pulse several times until well blended.

Combine cranberry mixture and diced tomatoes in a bowl and mix well.

Cover, label, date and refrigerate.
Pulled Pork Taco Directions
Preheat oven to 350 degrees F.

Place pulled pork in hotel pan, wrap with foil, and cook until 160 degrees.

Place tortilla in hotel pan, wrap with foil, and place in oven for 15 minutes.

To serve, place tortilla on plate, place 2 oz of pulled pork down the center of the tortilla, and place 2 Tbsp of cranberry salsa in the center.
Serving
1.75 oz. meat/meat alternative, 1 oz. eq. grain, 1/8 cup fruit
Nutrients per serving
Calories 120 kcal, Total Fat 2.29 g, Saturated Fat 0.38 g, Trans Fat 0 g, Cholesterol 26.25 mg, Sodium 185.17 mg, Carbohydrates 14.87 g, Dietary Fiber 0.48 g, Protein 9.71 g, Vitamin C 4.71 mg, Calcium 20.84 mg, Iron 0.43 mg, Vitamin A 11.25 RE (112.46 IU), 1.92 % Calories from Saturated Fat
% Calories from Saturated Fat Sanitation instructions
Wash hands and exposed parts of arms before handling food, after handling raw foods and after any interruption that may contaminate hands. Wash, rinse and sanitize all equipment and utensils before and after use. Return all ingredients to refrigerator if preparation is interrupted. Measure all internal product temperatures with a cleaned and sanitized thermocouple or thermometer every 2 hours. Thaw frozen product properly using an FDA recommended method.