Salad with Tofu, Baby Tatsoi & Cranberry Chili Jam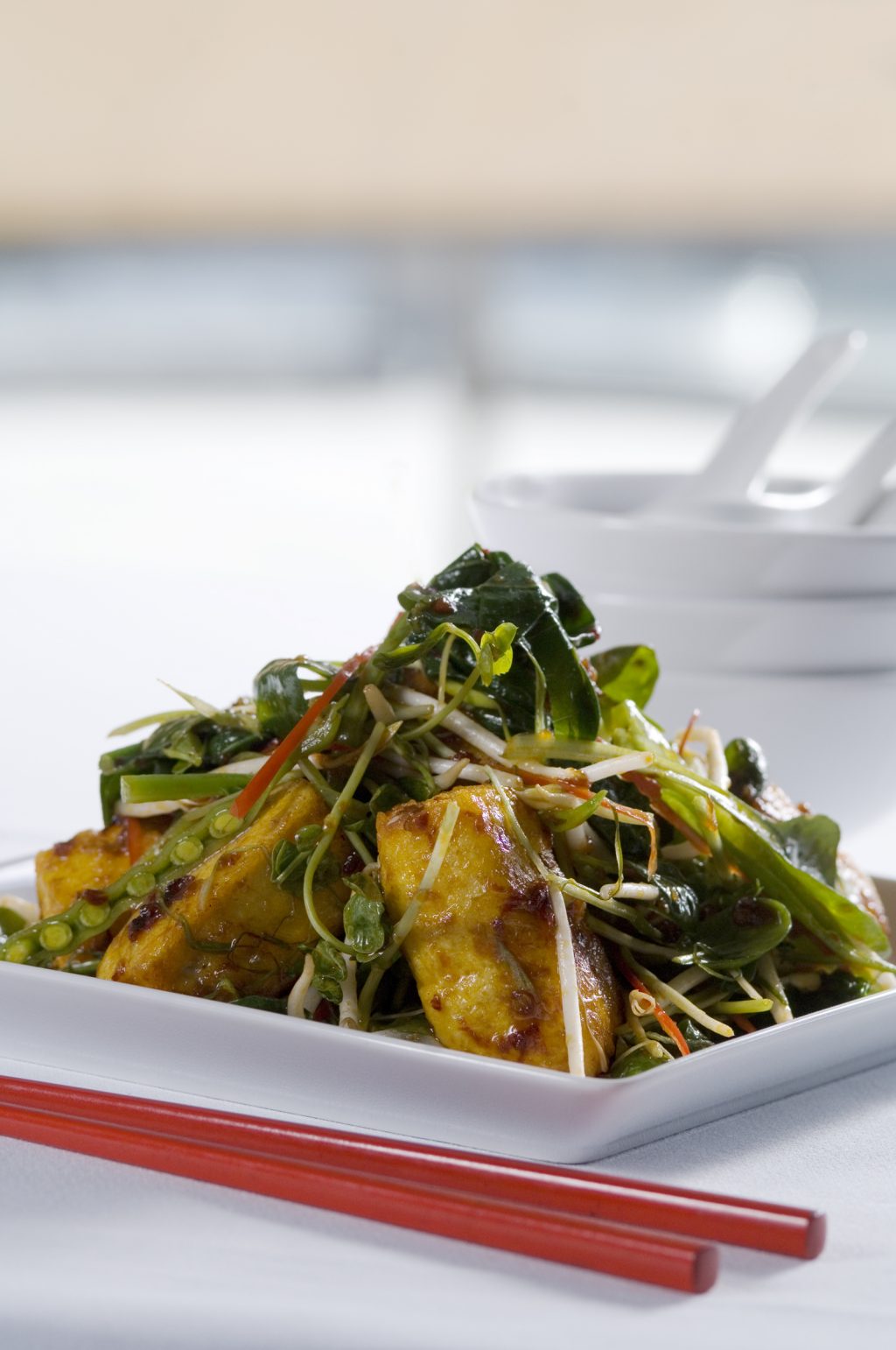 Ingredients
Ingredients for Salad with Tofu, Baby Tatsoi & Cranberry Chili Jam
Chilli Jam:

1/2 kg Long red chilli, chopped

2 Large brown onions, chopped

5 Cloves garlic, chopped

300ml Vegetable oil

160g Dried cranberries

160ml Cranberry juice

150ml Tamarind water (made by kneading tamarind pulp with warm water and straining)

80g Shaved palm sugar

1 1/2 Tbsp Sea salt

Salad:

200g Bean sprouts

60g Baby tatsoi leaves

1/2 bunch Chinese broccoli, blanched and refreshed

1 Shallot, julienned

Good pinch Picked coriander

1 Long red chilli

100g Snow peas, sliced

400g Tofu, cut into rectangles

2Tbsp Corn flour

1tsp Salt

1/2 tsp Crushed white pepper

50ml Fish sauce

2tsp Caster sugar

2Tbsp Fresh lime juice

1 Clove garlic, finely chopped
Instructions
Directions
Chili Jam:

Roughly pulse the onions, garlic and chili in a blender. Transfer to a heavy base pan with the oil and cook on a very low heat until the mixture has started to turn a dark red hue. This can take up to 2-3 hours.

Meanwhile, reconstitute the dried cranberries in the cranberry juice. Add to the pan and continue cooking until most of the moisture has evaporated. Add the tamarind water, shaved palm sugar and sea salt, cook for a further 1/2 hr and check seasoning.

Salad:

Combine all salad ingredients in a large bowl.

Mix the corn flour with the salt and pepper. Coat the tofu pieces evenly with this mix and deep fry until crisp.

Drain and coat in 3 tablespoons of the chilli jam.

Place in the salad mixing bowl. Combine all dressing ingredients thoroughly and toss everything together.

Divide onto four plates with extra chilli jam on top for garnish.