Savory Cranberry Cornbread Muffins with a Cheesy Herb Core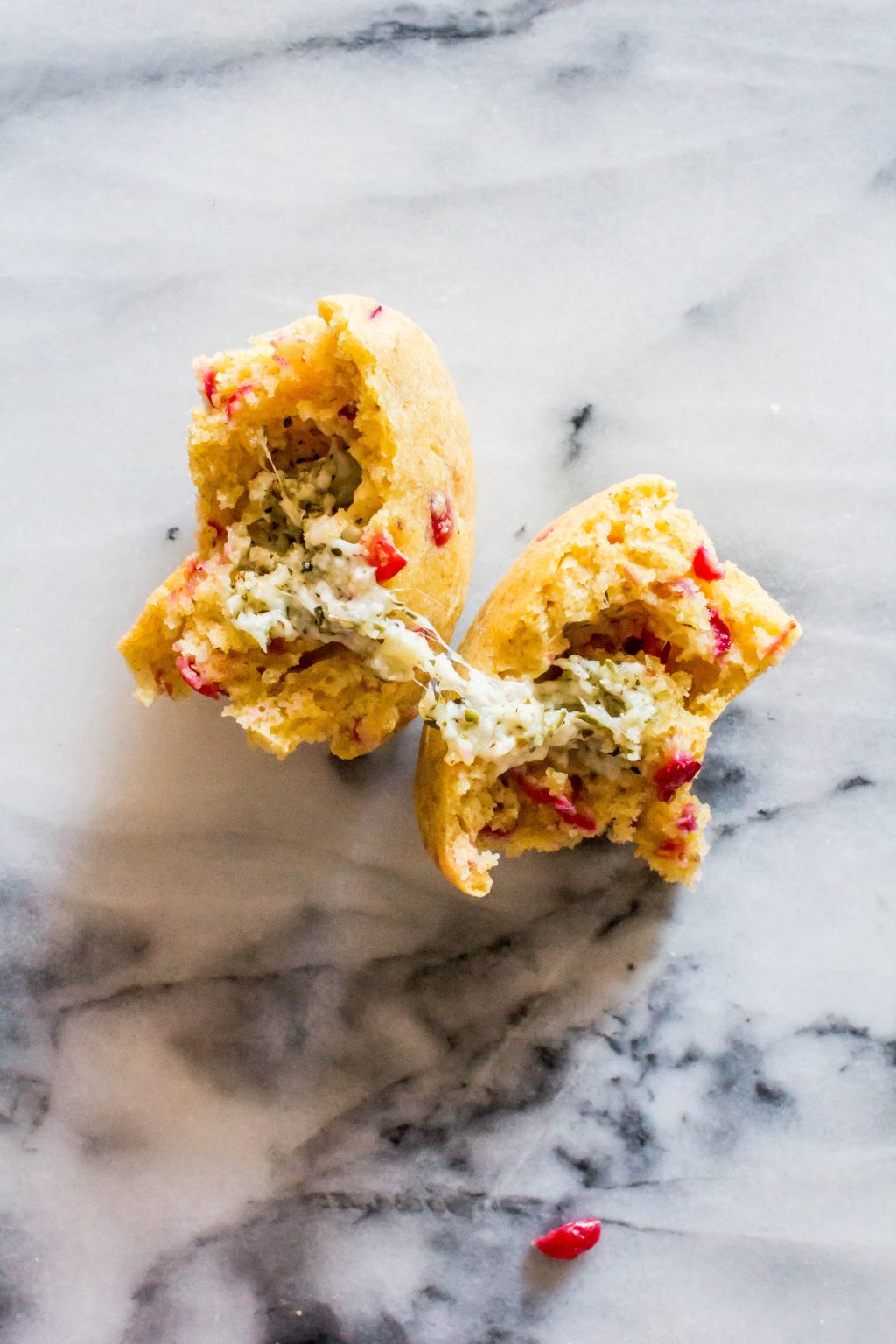 Ingredients
Dry Ingredients

1 cup cornmeal

½ cup whole wheat flour

½ cup all-purpose flour

¼ cup brown sugar, packed

2 teaspoons baking powder

½ teaspoon sea salt

¼ teaspoon baking soda

¾ cup cranberries, roughly chopped

Wet Ingredients

1 cup + 2 Tbsp. milk (I used 2%)

1 egg

½ cup Greek yogurt (I used 2%)

1/4 cup coconut oil, melted

Cheesy Core Ingredients

1 cup finely grated cheese (mix of parmesan and sharp white cheddar)

1/2 Tbsp. Herbs de Provence
Instructions
Preheat oven to 350°F. First, make your cheesy core. In a bowl, combine finely grated cheese and Herbs de Provence. Grab a bit of the cheese and herbs and roll into a tight ball, repeat until you have 12 cheese balls.

In a separate bowl, combine all dry ingredients. Make a well in the center, add in all wet ingredients and mix to combine.

Line a muffin tin with paper liners. Fill half way up with muffin batter. Add a herby cheese ball in the center. Cover with the remaining muffin batter. Bake for 15-20 minutes, or until tops are set and muffins feel firm when pressed. Cool for 10 minutes before serving (muffin liner will come off the muffin easily).
Source
The Cranberry Marketing Committee and Kylie Mitchell, MPH, RDN of Imma Eat That