Savory Cranberry-Walnut Biscuits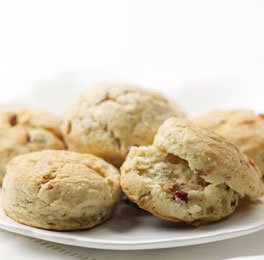 Ingredients
Ingredients for Savory Cranberry-Walnut Biscuits
2 1/4 cups all-purpose flour

2 tsp. baking powder

1/2 tsp. baking soda

1 tsp. salt

1 1/2 sticks unsalted butter (10 T cut into 1/2-inch cubes and chilled, 2 T melted)

1 minced shallot, sauted in 1 tablespoon butter

1/2 cup dried cranberries

1/2 cup chopped, toasted walnuts

Pinch of black pepper

1 cup buttermilk, chilled
Instructions
Directions
Preheat oven to 435 degrees and position a rack in the lower third of the oven.

In a large shallow bowl, whisk the flour, baking powder, baking soda, and salt. Add the chilled butter and use a pastry blender or two knives to cut the butter into the flour until it is the size of peas. Stir in the buttermilk just until the dough is moistened.

Lightly dust a work surface with flour. Turn the dough out onto the surface and knead 2 or 3 times, just until it comes together. Pat the dough into a 1/2-inch thick disk.

Using a floured 2 1/4-inch round cookie cutter, cut out biscuit rounds as closely together as possible. Gather the scraps and knead them together 2 or 3 times, then flatten the dough and cut out more biscuits. Pat the remaining scraps together and gently press them into a biscuit.

Transfer the biscuits to a large baking sheet and brush the tops with melted butter. Lightly sprinkle the biscuits with a few grains of flaky salt and chill until firm, about 10 minutes.

Bake the biscuits for 20 minutes, or until golden. Let the biscuits cool slightly on the baking sheet before serving.