Sweet n' Savory Crostini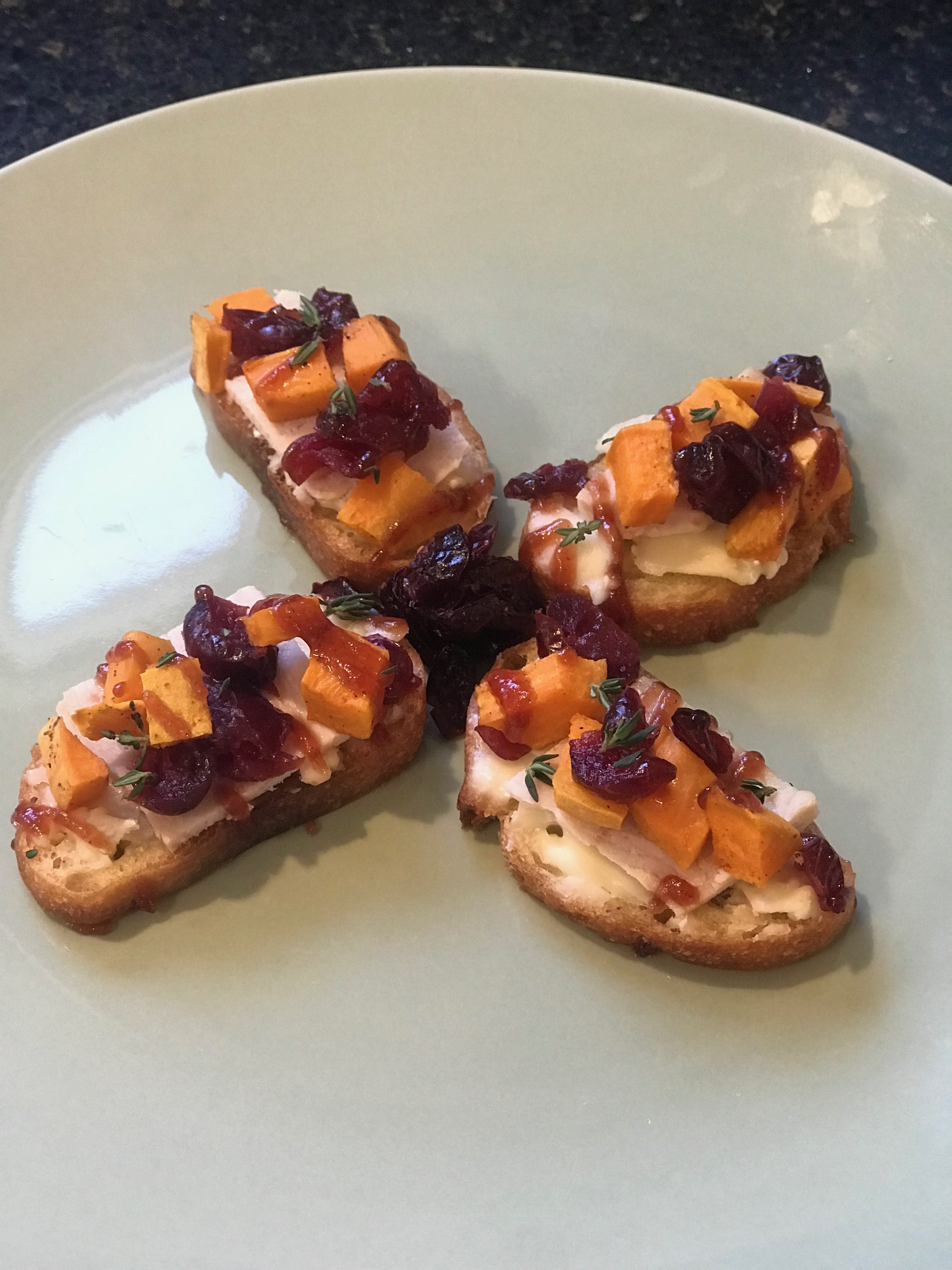 Ingredients
1 cup water

2 cups dried cranberries

1 cup orange juice

1 cup dark brown sugar

15 ounces cranberry sauce

1 tablespoon cinnamon

2 medium sweet potatoes

1/4 cup canola oil

3/4 teaspoons salt

1/2 teaspoon nutmeg

1/2 baguette loaf

1/4 cup melted butter

8 ounces brie

1/4 pound thinly sliced smoked turkey

2 teaspoons fresh thyme
Instructions
Preheat oven to 400°F. Place dried cranberries in glass bowl, cover with boiling water and let stand for 20 min. Drain and set cranberries aside.

In a medium sauce pan, over medium heat, combine orange juice and dark brown sugar, stirring occasionally. Once brown sugar dissolves add cranberry sauce stirring frequently until cranberry sauce is slightly melted. Add cinnamon and reduce heat to a simmer until cranberry sauce is fully melted or glaze begins to thicken and bubble (30-50 minutes).

Dice sweet potatoes. Coat diced sweet potatoes in canola oil, salt, and nutmeg. Bake for 20 min.

Slice crostini loaf into 20 thin-medium slices and brush surface with melted butter. Once sweet potatoes are out of the oven, reduce oven heat to 375°F and place crostini in and bake for 5 min. Remove from oven and cool for 2 min.

Using a butter knife spread brie evenly onto crostini surface. Slice turkey into rectangular shapes large enough to cover the surface crostini.

Place diced sweet potatoes and cranberries on top of sliced turkey on crostini. Drizzle cranberry glaze over sweet potato and cranberry topping. Sprinkle thyme on top.