Sweet Potato & Cranberry Stacks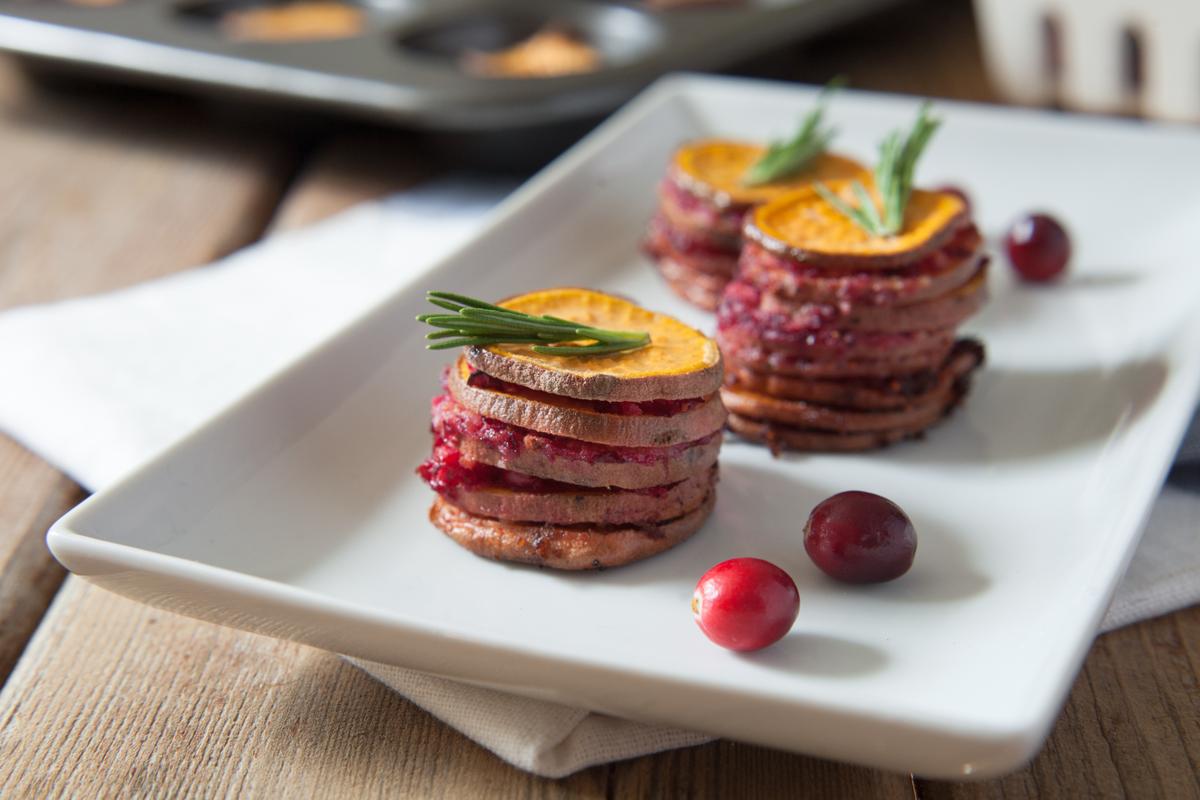 Ingredients
3 large sweet potatoes

½ stick butter, cut into cubes

¼ cup extra virgin olive oil

½ cup fresh cranberries, divided

2 cloves fresh garlic, chopped

1 teaspoon salt

1/8 teaspoon freshly ground black pepper

3 sprigs fresh rosemary, for garnish
Instructions
Preheat oven to 450 degrees F.

Wash potatoes and cut off ends.

Slice potatoes thinly (approximately ¼-inch thick slices), and stack vertically as you cut to keep slices in order. This helps keep the shape of the stack and avoids uneven layering of small slices mixed with large slices. Divide slices to make 6 stacks.

To make cranberry butter, add butter, olive oil, ¼ cup cranberries, garlic, salt and pepper to a food processor. Pulse to combine. Butter is done when pink with flecks of cranberries.

Clean food processor and pulse remaining ¼ cup of fresh cranberries approximately 7 times to create a finely chopped relish texture. Scrape down sides of food processor as necessary to completely chop all cranberries. Set aside.

Using a pastry brush, brush cranberry butter onto all surfaces of the sweet potato.

Build stacks upright as straight as possible in each muffin tin space, adding cranberry relish between every 2 or 3 slices of sweet potato. Spread relish evenly across the surface of potato slice.

To add extra stability to stacks during cooking, pierce with skewer.

Cook for approximately 25 minutes, or until the stacks are easily pierced with a knife.

Top with fresh sprigs of rosemary. Serve immediately.