Turkey and Cheddar Grilled Cheese with Cranberry Mustard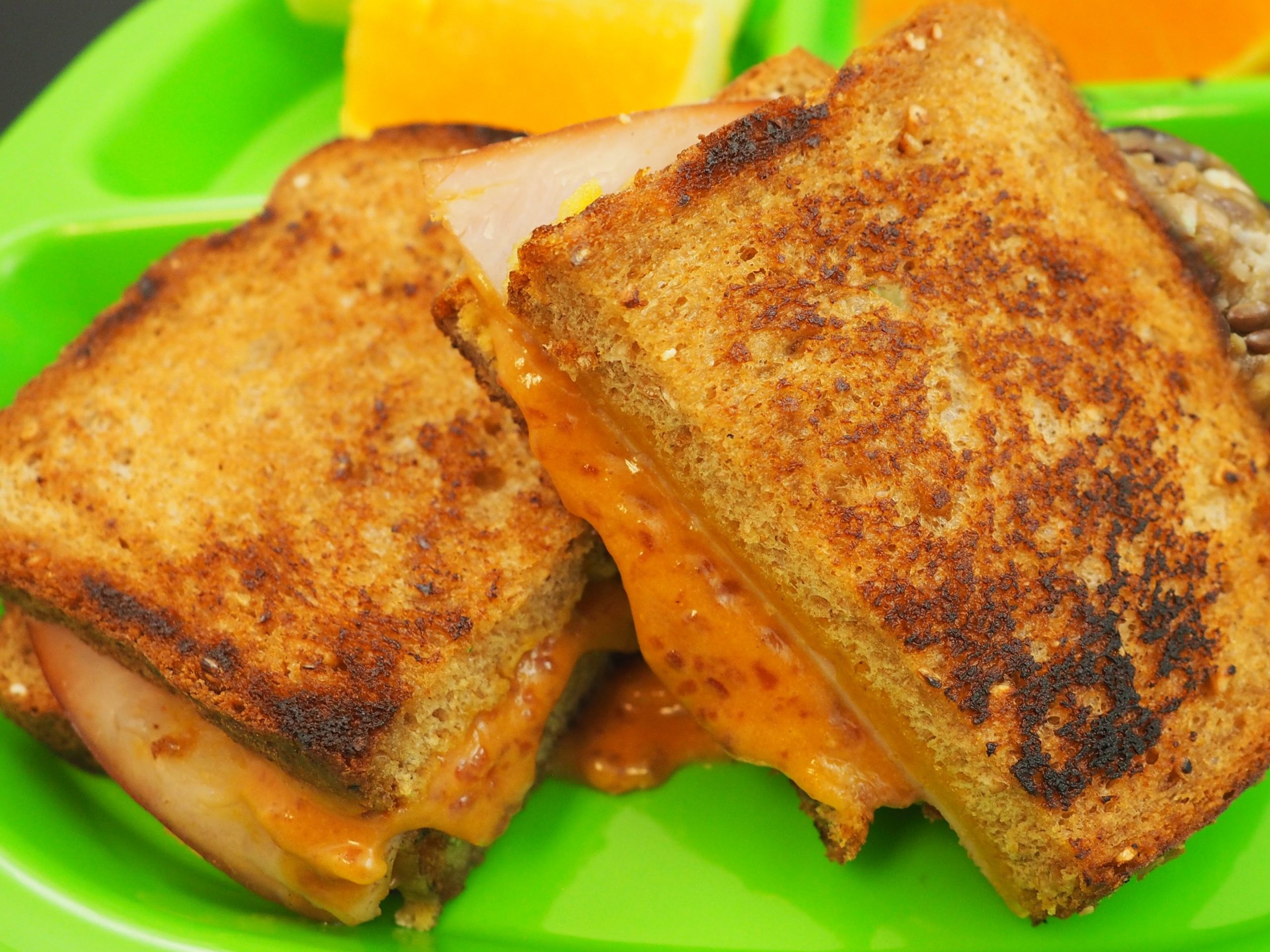 Ingredients
12.5 oz. butter, softened

100 slices whole wheat bread

50 slices cheddar cheese, reduced fat

6.25 cups cranberry mustard spread

3.5 lb. turkey breast

5 lb. granny smith apples, cut into 12 slices
Cranberry Mustard Spread
3/4 cup Mayonnaise, reduced-fat

3/4 cup mustard, American

3 cups Cranberry Sauce
Instructions
Herb Mayo Directions
Combine all ingredients in a bowl and whisk until all ingredients are incorporated.

Cover, label, date and refrigerate.
Main Directions
Preheat oven to 350 degrees F.

Brush 1/4 oz. butter on each slice of bread. Place buttered-side down on large sheet tray.

Place a slice of cheese on half of the slices of bread.

Bake in the oven until cheese in melted and bread is browned, approximately 7 minutes.

Remove from oven and spread 1 tablespoon of cranberry spread on all of the slices of bread without cheese.

Place one ounce of turkey on all of the slices with cheese.

Place 4 slices of apple over the turkey.

Assemble the sandwiches by topping the apple, turkey, cheese bread with a slice of bread containing the cranberry spread.
Nutrients per serving
Calories 336 kcal, Total Fat 13.34 g, Saturated Fat 5.17 g, Trans Fat 0.01 g, Cholesterol 38.21 mg, Sodium 724.74 mg, Carbohydrates 35.12 g, Dietary Fiber 4.93 g, Protein 19.64 g, Vitamin C 0.14 mg, Calcium 245.93 mg, Iron 1.60 mg, Vitamin A 5.64 RE (165.38 IU), 25.85 % Calories from Saturated Fat **cheese exempt from sat fat restrictions
Sanitation instructions
Wash hands and exposed parts of arms before handling food, after handling raw foods and after any interruption that may contaminate hands. Wash, rinse and sanitize all equipment and utensils before and after use. Return all ingredients to refrigerator if preparation is interrupted. Measure all internal product temperatures with a cleaned and sanitized thermocouple or thermometer every 2 hours. Thaw frozen product properly using an FDA recommended method.