Turkey, Cranberry & Brie Quesadillas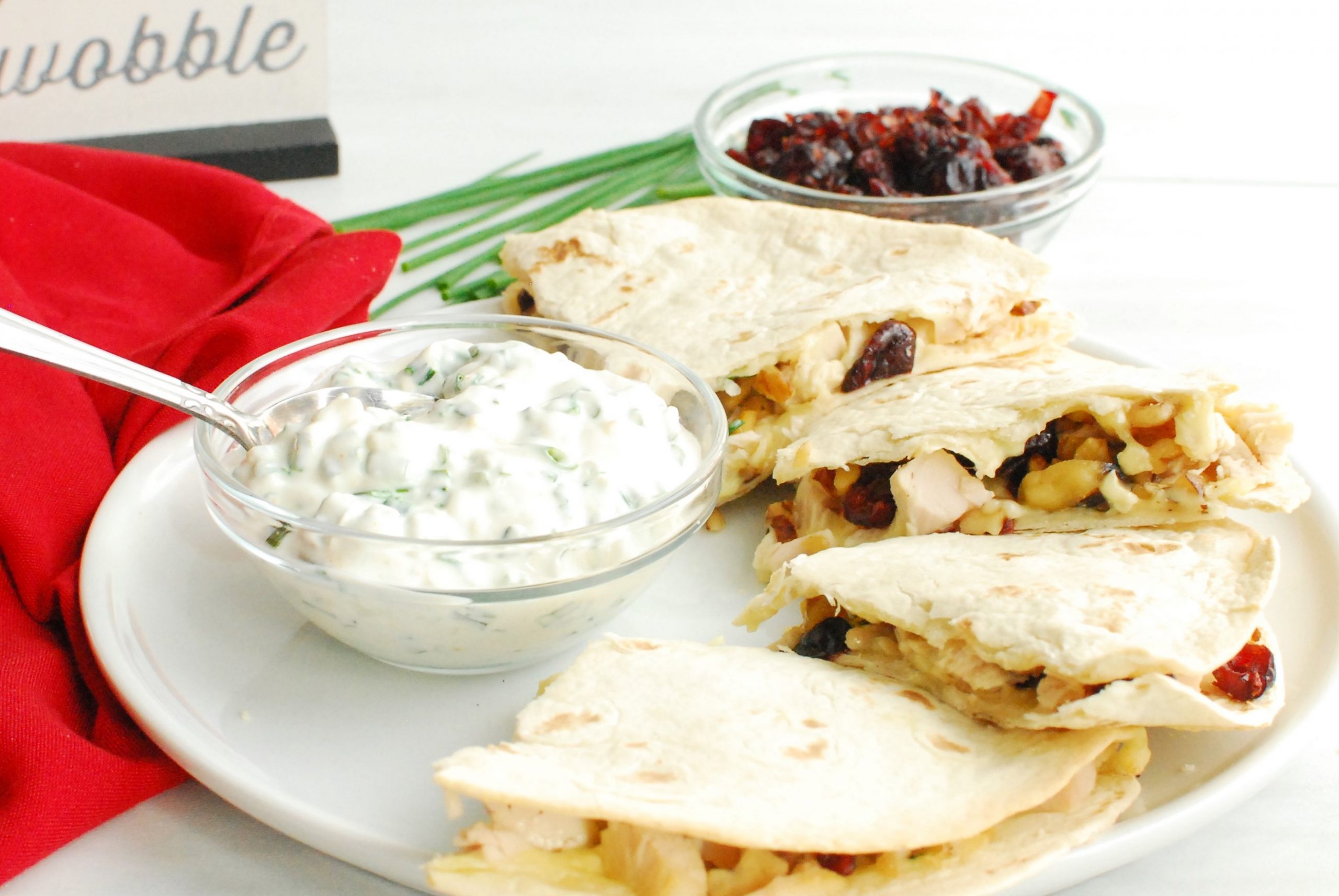 Ingredients
For the topping
1/2 cup low fat sour cream

1/2 cup chopped chives

1 teaspoon fresh garlic, minced

1/2 teaspoon fresh lemon juice

1/4 teaspoon salt

1/8 teaspoon cayenne pepper
For the quesadillas
1 lb. fully cooked turkey breast meat

shredded

2 cups brie

rind removed

8 flour tortillas (8-inch)

1 cup sweetened, dried cranberries

1/2 cup toasted, chopped walnuts

1/2 cup chopped chives
Instructions
Preheat the oven to 350 degrees F. Grab two baking sheets and set aside for now.

Start by preparing the topping. In a medium bowl, combine the sour cream, chives, garlic, lemon juice, salt, and cayenne pepper. Stir well and set aside in the refrigerator until ready to serve.

Spread ¼ cup brie on one side of each of the 8 tortillas. Place four of the tortillas, brie side up, on the baking sheets.

Sprinkle ½ cup turkey, ¼ cup cranberries, 2 tablespoons walnuts, and 2 tablespoons chives on top of each of the 4 tortillas on the baking sheets. Place the additional tortillas on top, brie facing down towards the cranberry-turkey mixture.

Bake the quesadillas at 350 degrees F for 8 to 12 minutes, or until the cheese is melted and the tortillas feel crisp. (Alternatively, you may cook quesadilla in large, lightly greased frying pan over medium high heat for 1-3 minutes per side until cheese is melted and tortilla is crisp, if desired.)

Cut each quesadilla into 4 wedges and serve immediately with chive sour cream topping.