Veal with Cranberry Balsamico Sauce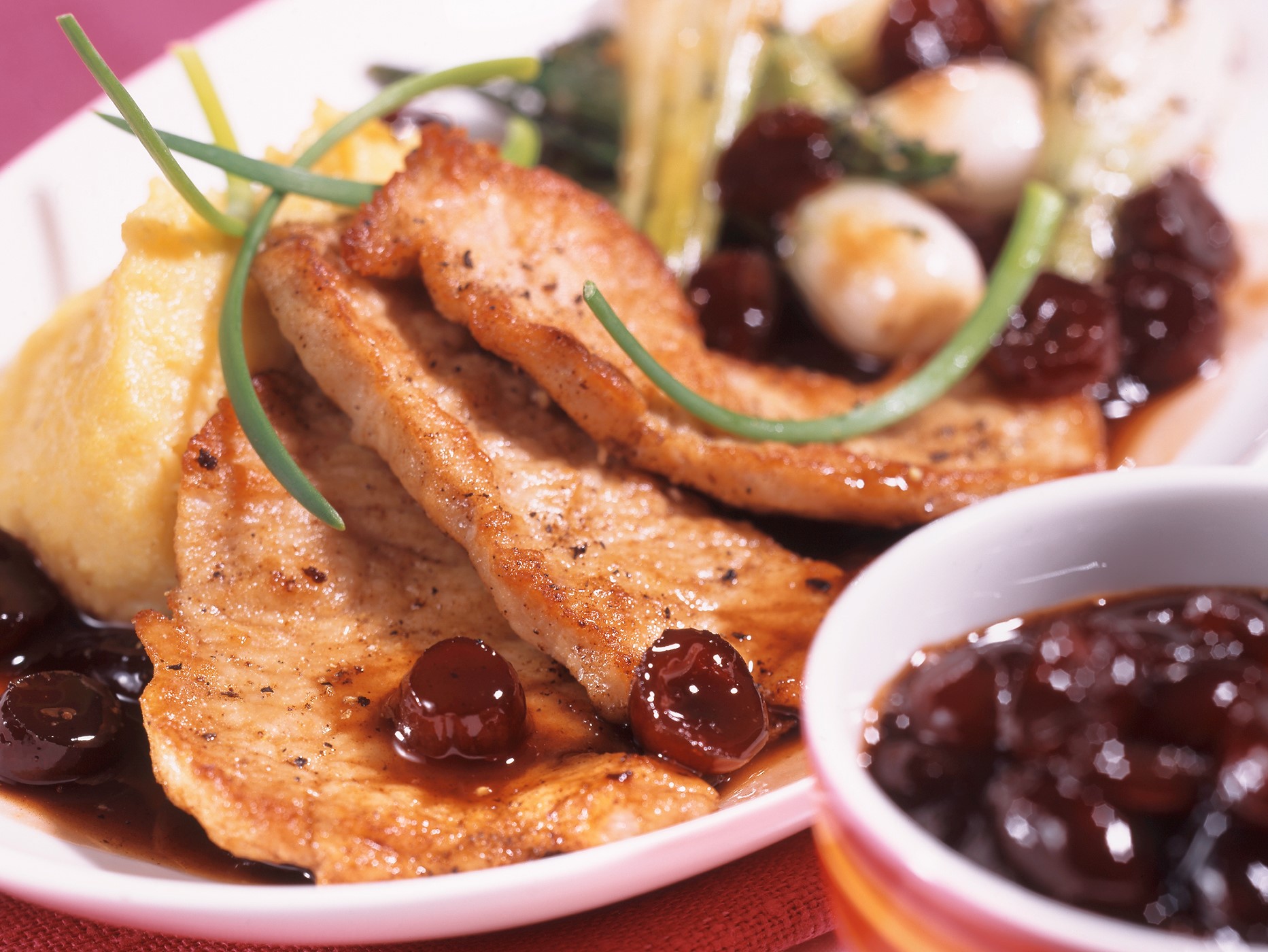 Ingredients
1/3 cup dried cranberries

12 small veal cutlets (1 1/2 oz each)

2 bunches spring onions

2 sprigs rosemary

1 clove garlic

1 cup fast cooking polenta

7 Tbsp cold butter

1 Tbsp brown sugar

4 Tbsp balsamic vinegar

Salt and pepper
Instructions
Let the cranberries soak in water or cranberry juice in a covered pot for at least 12 hours.

Pat dry the veal cutlets with paper towels, beat veal from the back gently. Clean spring onions and cut them into 3-4 cm long pieces. Cut onions in half. Remove the rosemary leaves from their sprigs and peel clove of garlic. Mash rosemary and garlic together.

Prepare the polenta according to cooking instructions. Season the veal cutlets with salt and pepper, and fry them with 2 Tbsp butter in a big pan at high heat on both sides for 1-2 minutes. Remove them from the pan and put them on a plate aside. Put the spring onions into pan and fry them for 2-3 minutes. Add rosemary, garlic, and brown sugar. As soon as the sugar starts to melt, deglaze with 4 Tbsp of balsamic vinegar. Add cranberries with 4 Tbsp of the soaking liquid and cook them briefly. Cut remaining butter into small pieces and add it to the sauce. Season to taste and turn off heat.

Replace the veal cutlets to the pan, turn up the heat, and serve it with cranberry sauce and polenta.

Tip: The cranberry sauce is an alternative for "Saltimbocca alla Romama" (veal schnitzels with parma ham and sage) - in this case, don't add the spring onions and rosemary to the sauce.