Venison Filet with Cranberry Relish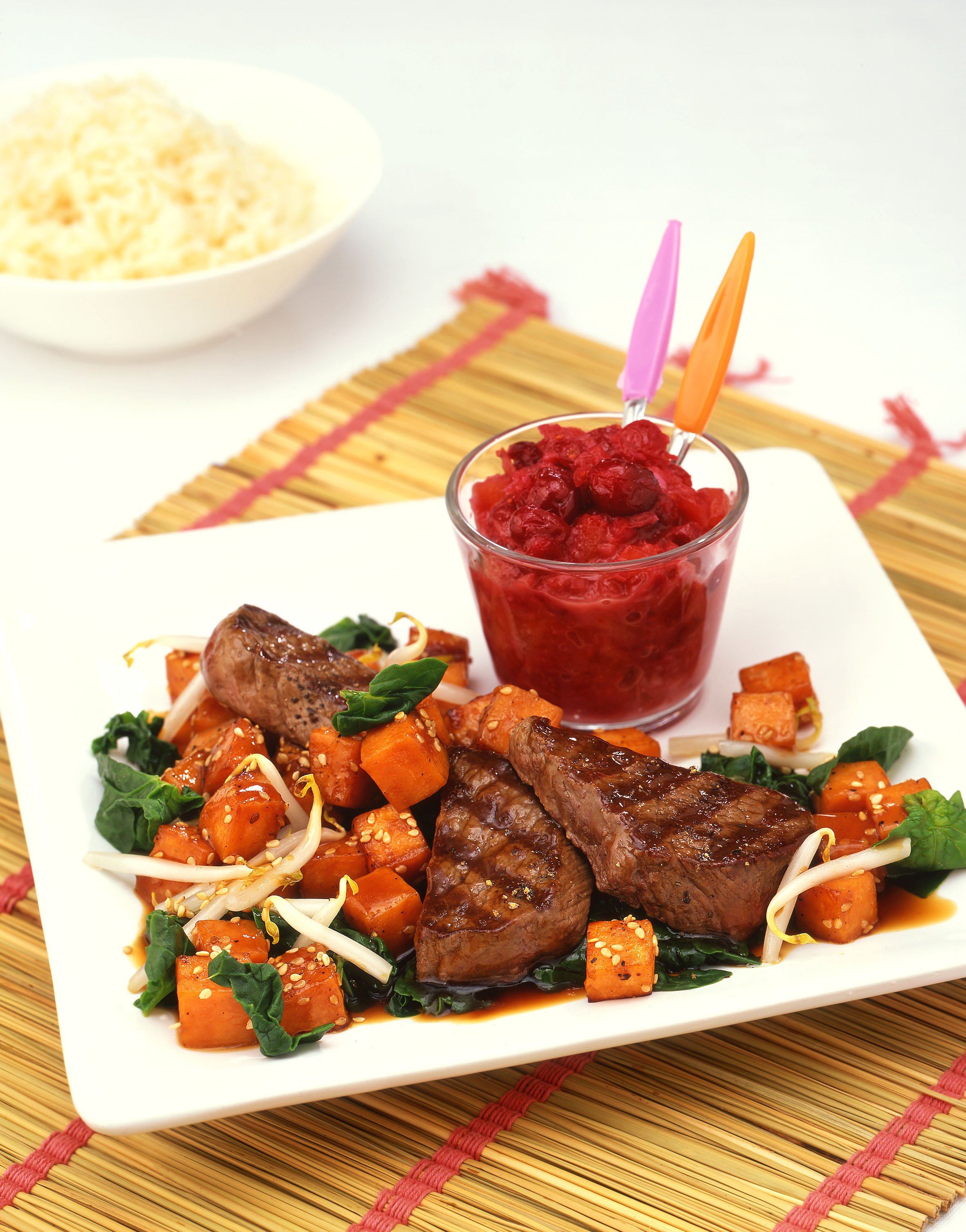 Ingredients
5 (Thai) Shallots

2 stalks lemongrass

4 cm ginger root

1-2 chili peppers

1 clove of garlic

1 ripe papaya

1/2 cup coconut milk

1 1/2 fresh cranberries

5 Tbsp sugar

1 3/4 spinach (fresh or frozen)

1 3/4 sweet potatoes

2 tsp sesame oil

2 tsp sesame

1/2 cup bean sprouts

2 Tbsp soy sauce

1 lb loin of venison
Instructions
Peel shallots, cut in half and cube them. Remove wooden ends and leaves of lemongrass, cut into fine rings or cut them in quarters lengthwise. Finely chop. Peel garlic and ginger, and chop with the chili. Peel papaya and cube. Chop cranberries. Mix all ingredients with coconut flakes, coconut-milk, cranberries and sugar. Let it sit for half hour. Cook the mixture for 10 minutes in a covered pot. Stir often. The consistency should be like jam. Finally let it boil down for a few minutes over high heat and without a cover.

Wash spinach, remove stems and cook in a big pot with salted water for 2 minutes. Drain and rinse with cold water. Thaw frozen spinach, crush and cut. Peel potatoes and cut in 1 cm cubes. Heat 1 tsp sesame oil in a pan or wok, season potatoes with salt and pepper and cook for 8 minutes. Add spinach, sesame, bean sprouts and soy sauce. Let it cook for 1 minute while glazing.

Pat dry venison and cut into 12 slices. Coat grill pan with remaining oil, season the medallions and grill for 2 minutes on each side. Let it rest briefly and arrange with vegetables and cranberry relish.

Tip: You can keep the cranberry relish in jars up to months in your fridge. While pouring relish in jars, jars should be clean and the relish should be hot. You can get a smoother relish if you replace the coconut flakes with fresh coconut.