Venison Filet with Cranberry Walnut Pumpkin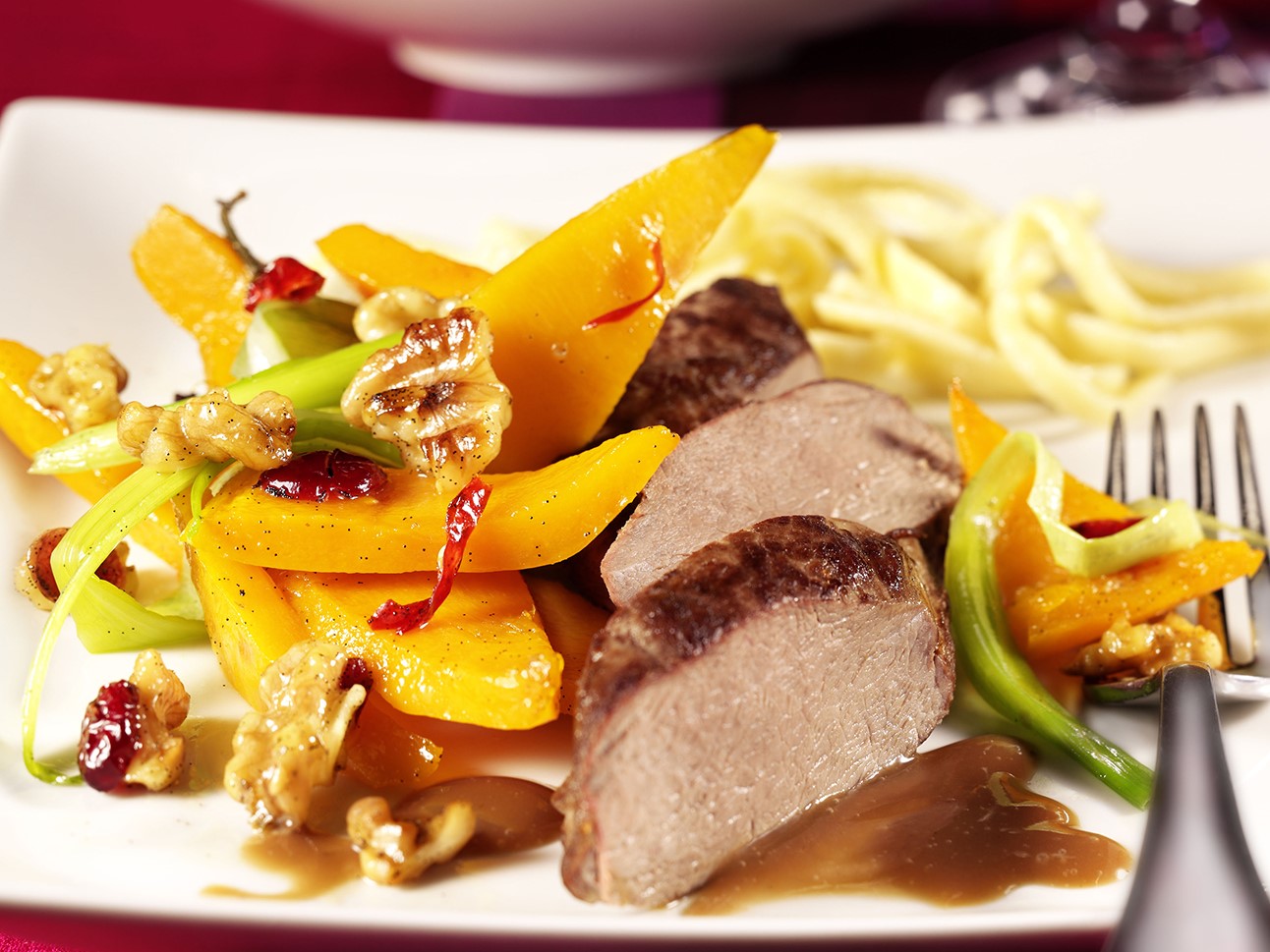 Ingredients
For the pumpkin:

4.5 lbs pumpkin

Salt

1 splash of white wine vinegar

1 bunch spring onions

1 small red chili pepper

- 1 vanilla bean

1 Tbsp oil

1/4 cup walnuts

2 Tbsp dried cranberries

1 Tbsp honey

6 Tbsp pumpkin cooking water

In addition:

14 oz venison filet

1 Tbsp oil

1 cup venison stock (instant)

2 Tbsp creme fraiche (lightly soured cream)

Salt and pepper to taste
Instructions
Peel pumpkin, remove kernels and cut into pieces. Cook in salted water with a splash of vinegar for 6-8 minutes until al dente. Drain well. Clean spring onions, wash and cut into small slices. Chop chili pepper. Slice vanilla bean and scrape out seeds. Heat oil in a pan and stew pumpkin, chili, vanilla, walnuts,cranberries, honey and water of pumpkin for 3-4 minutes. In the last minute, add spring onions. Season with salt and keep warm.

Season the venison with salt and pepper. Heat oil in a pan and saute meat on both sides. Pour in venison stock and cook for 15 minutes, turning around once. Keep warm afterwards. Stir creme fraiche into meat juice until sauce thickens. Season to taste with salt and pepper. Cut filets into slices and arrange everything together on a plate.

Serve with spaetzle.

Tip: If you want to make spaetzle on your own, you can add some chopped walnuts to the dough and serve the venison with refined walnut spaetzle.