Whole Wheat Cranberry Herb Rolls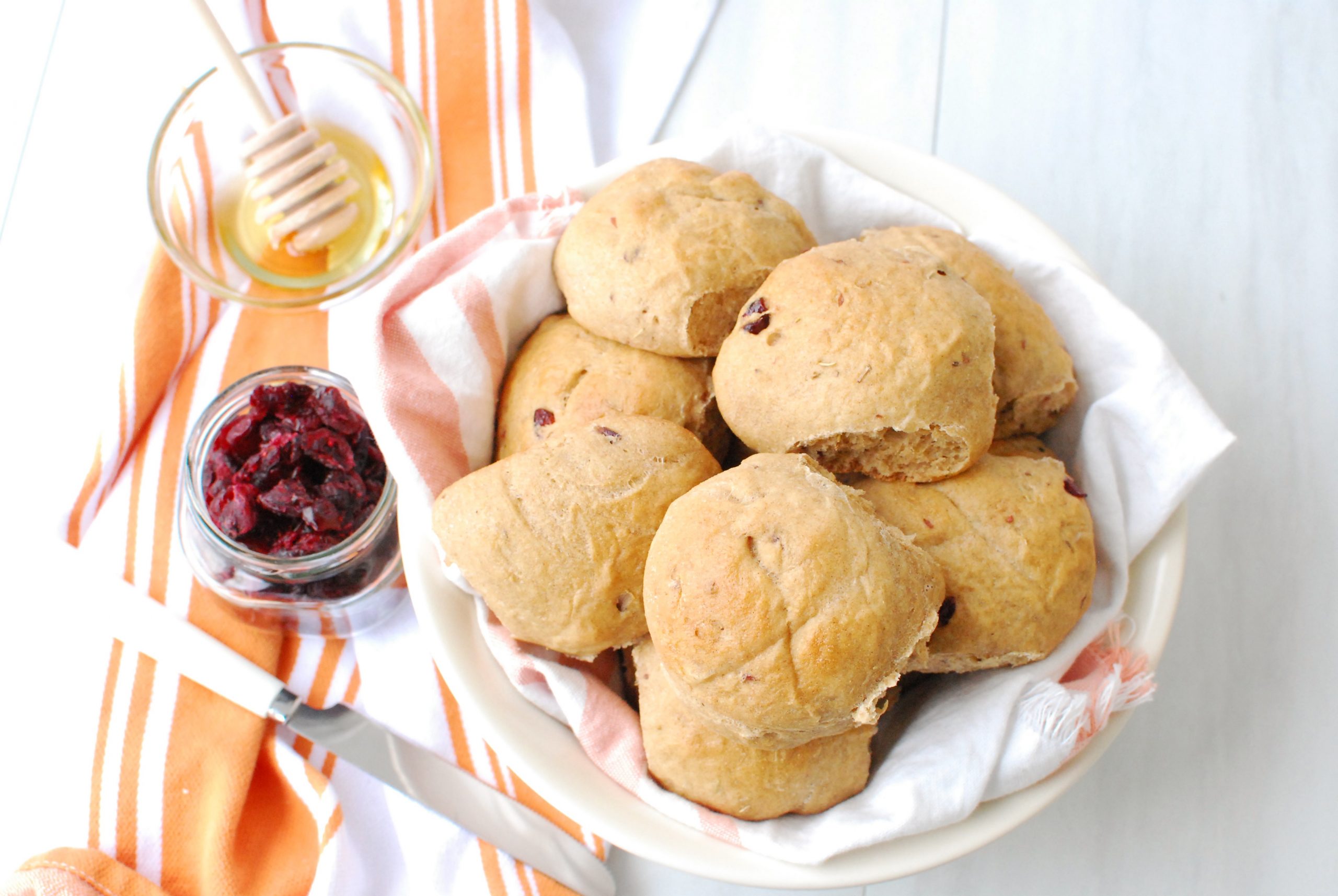 Ingredients
Ingredients for Whole Wheat Cranberry Herb Rolls
Ingredients:

2 cups warm water (100 to 110 degreesF)

2 1/4 teaspoons Fleischmann's Active Dry Yeast

1/2 teaspoon sugar

1/4 cup minced shallots

2 teaspoons vegetable oil

2 cups King Arthur White Whole Wheat Flour

1 tablespoon salt

3 tablespoons honey

4 tablespoons unsalted butter, melted and cooled

3 Tablespoons minced fresh herbs, such as sage, thyme, marjoram OR 3 teaspoons dried

3 - 3 1/8 cups King Arthur 100% Whole Wheat Flour

1/2 cup dried cranberries, chopped

1 egg beaten with 1 tablespoon water
Instructions
Directions
Directions:

In large bowl, combine water, yeast, and sugar; let stand 10 minutes.

Meanwhile, in small skillet, saute shallots in oil, until softened.

Add White Whole Wheat Flour to yeast mixture and mix 2 minutes on low speed. Mix in salt, honey, butter, herbs, and shallots. Gradually add enough of the whole wheat flour to make soft dough.

Knead by hand or with dough hook 8 to 10 minutes, adding cranberries toward the end of the kneading process. Avoid adding too much flour. The dough should be slightly sticky.

Place dough in oiled bowl,turning to coat. Cover; let rise in warm place until double, about one hour.

Punch down dough. Shape into 24 smooth rolls and place on greased or parchment lined baking sheets. Cover; let rise 45 minutes in warm place until double.

Preheat oven to 375 degrees F. For a decorative appearance, carefully slash tops of rolls and brush with egg wash and bake 20 minutes. Remove from pan to wire rack to cool.