Roasted Butternut Squash Soup w/ Cranberry Salsa & Blue Cheese Cranberry Scones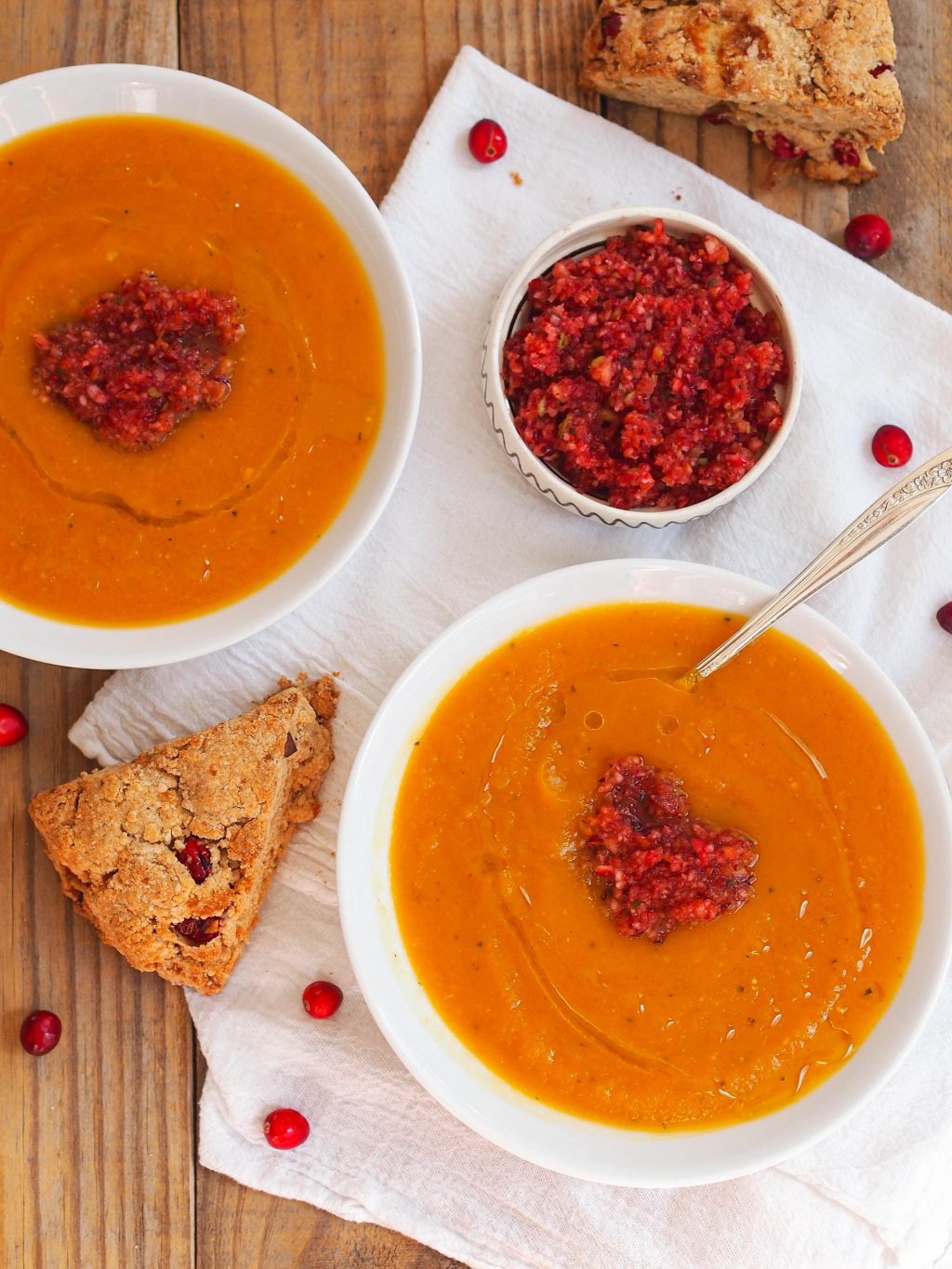 Ingredients
Soup:

1 large butternut squash (about 3½ pounds)

3 tablespoons extra virgin olive oil

1 yellow onion, chopped

3 garlic cloves, peeled and minced

4-6 cups vegetable broth

1 tablespoon pure maple syrup

2 pinches nutmeg

Salsa:

1½ cups fresh cranberries

1 Granny smith apple, chopped

1 jalapeño, seeded, stemmed and chopped

¼ cup pure maple syrup

Scones:

2½ cups whole wheat flour

1 tablespoon sugar

1 tablespoon baking powder

½ teaspoon salt

7 tablespoons coconut oil

1 cup buttermilk

½ cup crumbled blue cheese

¾ cup fresh cranberries
Instructions
Soup & Salsa: Preheat oven to 425 degrees. Halve squash lengthwiseand scoop out seeds. Rub cut side of squash with tablespoon of olive oil andseason with salt and pepper. Place cut side down on a large baking sheet androast for 45 minutes until tender. Remove from oven and let sit until coolenough to handle, then peel away skin from the flesh and discard the skin. 

While squash is roasting, make the salsa. Place cranberries, apple,jalapeñoand maple syrup in a food processor. Pulse until finely chopped. Refrigerateuntil ready to use. 

Heat 2 tablespoons olive oil in a large pot. Add onion and garlic andsauté until translucent and tender, about 5-7 minutes. Place squash flesh inthe pot. Add 4 cups of vegetable broth. Using an immersion blender, puree untilcreamy and blended. Add more broth to get to desired consistency. Bring to asimmer and cook 10 minutes. Stir in maple syrup and nutmeg. Season with saltand pepper. Serve garnished with salsa and a drizzle of olive oil. 

Scones:Preheat oven to 400 degrees. In a large bowl, whisk together flour, sugar,baking powder and salt. Using your hands, mix in coconut oil, pressing togetherflour mixture and oil until it's completely incorporated and forms a sandytexture. Slowly pour in buttermilk and mix together until incorporated. 

Stirin blue cheese and cranberries. Form dough into a large ball. Turn out onto aparchment paper lined baking sheet or baking stone. Press the top to flattenslightly. Using a sharp knife, cut dough in half, then cut each half into 4triangles. Separate the scones on the baking sheet. Bake 20-25 minutes untilgolden.